10 Affordable Ways to Launch Your Interior Design into 2017
Are your guests transported to 1997 the moment they step through your doors? Does track lighting illuminate a sea of dusty-pink carpeting? Do ivy wallpaper borders encircle a kitchen of oak cabinets? Or perhaps your color scheme of beige and white is offset by a sponge-painted accent wall.
Whatever you loved about '90s style, it may be time for a facelift. Here are 10 ways to make it happen without spending a bundle. 1. Colors that Reflect the Earth and Sky A quick coat of paint can give a home an instant update. ElleDecor informs us that the most stylish wall colors will reflect nature. Think of the rich blue hues of ocean waves, the brilliant glow of the noontime sun, or the verdant green and dusky browns of a forest.
2. Modular Shapes Inspired by tiny houses, urban nomads and mid-century modern style, we're going to see modular furniture that's easy to move and allows endless design possibilities, according to Interiorzine. A quick trip to IKEA can produce plenty of inexpensive inspiration.
3. Cork Domain Australia reports that cork is making a comeback. It's beautiful because it adds warmth and texture, and practical because it's ideal for absorbing noise. This is important as more homes adopt an open floor plan. Want to lose the sponge-painted wall fast and inexpensively? Hang some corkboard.
4. Metals Go for the gold (and the bronze and the chrome) advises Azure magazine. From architecture to light fixtures to furniture, you're going to start seeing more metal everywhere. However, we advise limiting metallic to finishes and furnishings which can easily be changed once the metal trend moves on. Think candleholders and switch plates.
5. Custom Headboards If you're a DIY type, all you need to update the look of your bedroom is a wooden pallet and some string lights. If you're not, look for upholstered headboards, which you can buy for as little as $70 at Target.  Decoist reports that when it comes to bedrooms, creativity reigns in 2017.
6. Natural Textures Not only are natural colors coming inside so are natural textures.  Design Campus declares that "natural textures rock" in 2017. Bring the outdoors in affordably with a sisal rug, a natural ottoman, rattan-look storage tower, or wicker chair.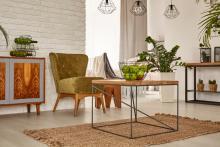 7. Geometrics Vogue reports that homes should appear curated and an easy way to achieve that look is with simple lines and geometric designs. Toss a chevron throw over your favorite chair or throw some diamond-block pillows on your bed.
8. Velvet Interior designer Christina Haire revealed to Luxpad that 2017 "is all about velvet…velvet on velvet." She loves how it can move from casual to formal, but remain elegant. So add some velvet pillows to that chevron throw.
9. Color Blocking The home décor site, Lonny, reports that extreme color blocking is being embraced by the fashion-forward. If extremes aren't your style, consider temporary updates like color-blocked window treatments or accessories.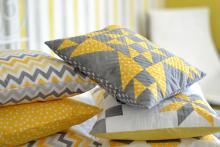 10. Tribal Touches Paradoxically, Houzz advises using ancient cultures to create a more modern look. They recommend decorating your home with eclectic combinations of artifacts and styles from exotic locales like Morocco. They note that even sterile interiors can look stunning with a few well-curated tribal pieces.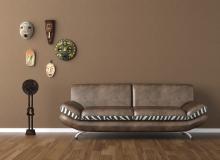 There's one thing that all of the 2017 trends have in common: They blend perfectly with sisal and natural rugs. Go to our website to customize a rug - at an impressive value - that will blend perfectly with the trends you want to embrace.  Our wide array of borders, textures, patterns and materials allow for endless design possibilities.
Save
Save
Save
Save
Save
Save
Save
Save
Save

Sign Up and Save 10%
No, Thanks