2018 Color of the Year: 6 Easy Ways to Use Ultra Violet in Your Home
Every year like clockwork, Pantone releases their Color of the Year. And every year like clockwork, manufacturers pick up on the trend and introduce the color into our clothes, accessories, bedding, furniture, and other items, cementing the color as a hot trend for the entire year.
For 2018, Pantone has announced that the Color of the Year is ultra violet, an almost neon purple. Considering how provocative and vibrant this purple is, it can be a head scratcher trying to figure out how to use it in your home. But as a Minnesota-based company with countless Prince and Vikings fans, we think we have what it takes to help.
If you're looking to adopt the trend and use ultra violet in your home, here are six easy ways you can incorporate 2018's Color of the Year into your home's interior design.
1. Install a New Headboard
When you think of the most colorful part of your home, the bedrooms are likely low on the list. Homeowners tend to put all their most fun colors into high traffic areas like kitchens, living rooms, and other areas guests commonly go. Luckily for you, this creates an opportunity to liven up your bedroom with colorful furnishings.
Make a statement for your master bedroom and get a new ultra violet headboard. As the backdrop for the room's bed centerpiece, it will be a new can't-miss addition to the room. If a new headboard seems out of place for one of your bedrooms, take a more sedate route and update the room's bedding to include some purple. New bedding will still help you make a trendy statement, it just won't stand out as much as a new headboard.
2. Paint Accent Walls
Color is a common design element to any home, and one of the most important color decisions you'll make for your home lies on the walls. Your wall color often influences the entire room and sets the color pallet for the entire living space. If you're home's spaces have the same wall color on all four walls plus the ceiling, it can be easy to get bored with the monotony.
Help your rooms come alive by giving one wall a couple coats of ultra violet paint. Serving as an accent wall, this helps any room instantly become more interesting to the eye. Paint isn't the only way you can update your walls, either. If you want to make a less permanent change, update the rooms curtains or drapes with an ultra violet option to add more color to your wall surfaces.
3. Place Bold Furniture
Furniture is an oft used, oft noticed part of anyone's home making it a natural place to add new colors into your interior design. From couches and end tables to bar stools and ottomans, there are countless opportunities to add a bold, new ultra violet piece of furniture into your home. This new statement piece or pieces will draw attention and have guests clamoring to try it out. And before you get a new purple piece of furniture for every room, make sure to use them sparingly to avoid overpowering the room and losing any luster.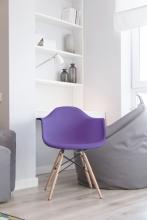 4. Get New Bathroom Towels
Adopting a color trend doesn't have to be as extensive as new furniture or new walls. For a fun update that only requires one trip to the store, simply update your bathroom towels to an ultra violet hue. Don't forget to purchase a complete set to make sure your bathroom towels and bathmats go together and don't create a color competition in your bathroom. If you want your guests to notice the new change in your home, make sure to select one of the guest bathrooms or powder rooms for your new towels.
5. Throw Colorful Pillows & Blankets
Often, homeowners add color to their rooms with decorative additions that are scattered throughout the space. For example, throw pillows and blankets are easy ways to add color to living rooms and bedrooms alike. Simply find a color and pattern that goes well with the room's design aesthetic, and throw it on the couch or bed for an added pop of color.
6. Update with Wall Art
Interior design is a way to express yourself and your personality through furniture, color, pattern, decorations, etc. And one of the best ways you can express yourself through your home's interior design is through wall art. Wall art is your chance to hang family photos, unique paintings, or even inspirational quotes that represent what is important to you as an individual.
In addition to expressing yourself, try updating your walls with art that includes ultra violet or purple. If you aren't finding the right photo or painting, you can always take a more creative route and put together your own purple DIY creation. For example, you could use stencils to paint your own motivational quote or fun saying on a purple canvas or wood panel.
Want More Design Trends & Inspiration?
For more fun design ideas for the new year, check out these seven winter interior design ideas that can heat up your home.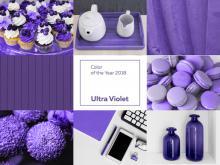 Sign Up and Save 10%
No, Thanks