2019 Flooring Trends: 7 New Flooring Options for Your Home
Wood, tile, carpet, laminate, stone … the list goes on. Modern interior design knows no limits when it comes to flooring options; whether you want something sleek, something soft, or something durable enough to keep up with busy kids and pets, there's a type of flooring out there for you. In fact, thanks to new technology, flooring options continue to expand in style and function every year, so that homeowners like you can find the perfect fit for your lifestyle. 
Whether your floors need a refresh or a total facelift, you want to find flooring that's visually appealing, on-trend, and comfortable to walk across day in and day out. This year, stay on top of the latest developments in flooring by checking out these 2019 flooring trends.
1. Bleached Hardwood Floors
Hardwood floors are beautiful in any home, and in any variety of colors. If you're looking for something outside the box, consider swapping your brown hardwood floors for bleached wood. 
This option gives you the durability of hardwood floors, but with a fresh, new look and feel—which is perfect if you're not a fan of the traditional dark and shiny wood floors. Bleached or blanched hardwood gives your home a rustic, farmhouse feel. The light-colored flooring pairs beautifully with a bold, contrasting area rug—like our Porto Sisal rug in gray. 
Adding an area rug provides comfort, safety, and convenience to your home. Not to mention, they protect your bleached hardwood floors from pet stains and scrapes!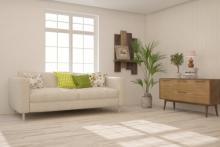 2. Sheet Vinyl
No, we're not talking about your grandmother's vinyl kitchen flooring. Yes, we're talking about sheet vinyl, but modern designs are outshining what we've come to know as standard vinyl flooring. Bold patterns and gouge-proof durability are helping bring sheet vinyl back in a big way. And, sheet vinyl is an affordable option that provides the same look and feel as big-budget flooring without breaking the bank.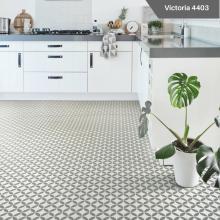 Image source: Etsy.
3. Waterproof Flooring
Whether you have children, pets, high foot traffic, or all of the above, waterproof flooring can be a lifesaver in your home. In potentially damp areas like your kitchen, bathroom, or entryway, carpet and hardwood might not cut it. Waterproof flooring options like vinyl and ceramic can be better options. Better yet, add a waterproof polypropylene area rug to really set your room apart.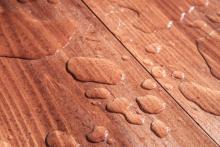 4. Pet-Friendly Flooring
If you have pets, you know they can sometimes be a pain (despite how much we love them). Dirty paws, scratches, and accidents can quickly wreak havoc on your otherwise pristine floors. 
For pet owners, flooring choices are often made based on function, not fashion. You may think hard surfaces like wood, tile, or laminate bode better with pets because they tend to be easier to clean, but we know from experience that pets love natural fiber rugs. And with our rug cleaning guide, picking up after your furry friend is easy.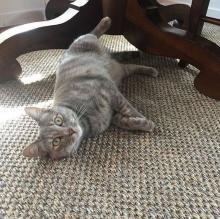 Your pets (and floors!) will thank you for adding function and fashion to your home with a Dorado Sisal rug in Ashland.
5. Custom Area Rugs
If you can't decide between hard surfaces or carpet, get the best of both worlds with a custom area rug to place on top of your hard floors. Area rugs add comfort and character to your home and can be easily interchanged as your style and design preferences vary. 
Our selection of custom natural fiber rugs can be cut to any size to fit any room.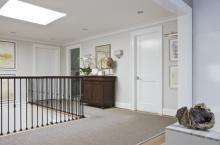 Get a custom area rug fit perfectly to the dimensions of your favorite space, like this Belize Indoor/Outdoor rug in Pewter.
6. Bold Carpet
Carpet adds softness and warmth to your home while reducing noise from high foot traffic. Year after year, carpet remains a flooring frontrunner because it's safe for pets and kids to play on and is easy to clean with regular vacuuming. Modern carpet designs incorporate bold, geometric patterns and bright colors to liven up your home. If you're looking for wall-to-wall carpet, consider one of our natural fiber options, like Lana Wool sisal or Milano sisal.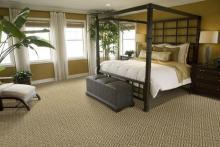 Love this look? Try a wall-to-wall application of our Porto Sisal in Latte Tan.
7. Patterned Hardwood
If you still love the idea of hardwood floors, try sprucing things up with a fun pattern. Patterned wood is a fresh take on traditional hardwood floors. Panels placed randomly, diagonally, or in a herringbone or parquet pattern not only set your home apart but serve as excellent conversation starters for anyone who visits your home.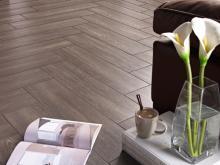 Flooring For All
Whatever your style, there's a flooring option out there for you. If you're looking to upgrade the flooring in your home, consider these 2019 trends. Bleached or patterned hardwood, sheet vinyl, pet-friendly fibers, and custom area rugs are excellent options to modernize your home. 
For more interior design trends, check out one of our trends posts:

Sign Up and Save 10%
No, Thanks