4 Creative Christmas Decorating Ideas From Our Favorite Interior Designers and Bloggers
Christmastime is here. And with it comes joy, cheer, and a whole lot of entertaining. 
While getting your home ready for the holidays, you'll likely break out all of your Christmas decorations. However, you may start to notice that a lot of your decorations stay the same from year to year. And we want to help you keep things fresh and add to your collection of Christmas decorations. 
To get your home in the Christmas spirit with some new, creative ideas, we compiled the top Christmas decorating ideas from our favorite interior designers and bloggers. Keep reading to see what they are!
#1 - Giant Paper Snowflakes
Remember making paper snowflakes when you were little? This Christmas, it's time to refine your paper-snowflake-making skills. Tied with a piece of string, paper snowflakes are incredibly easy to make and can turn any room in your home into a winter wonderland. For example, Kelly Elko hung up giant paper snowflakes in her sunroom to bring more Christmas cheer into the space. 
Don't remember how to make them? All you'll need is paper, scissors, and string. Then: 
Fold the paper in half diagonally to make a triangle.
Fold the triangle in half, allowing the pointed corners to meet.
Fold your triangle into thirds.
Cut across the bottom of your paper to create a straight bottom.
Make additional cuts on the folded edges to create your snowflake pattern.
Unfold.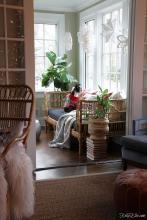 Take the full tour of Kelly Elko's holiday home by visiting her blog.
#2 - Glittered Pinecone Wreaths
When we think of wreaths as Christmas decorations, we usually think of something green. By definition, wreaths are rings of flowers, leaves, or stems so it goes without saying that most wreaths you'll come across over the holidays are filled with evergreen, cedar, holy, or pine leaves. That's why we love the glittered pinecone wreath that Leslie from Deeply Southern Home placed above her mantlepiece. It's unique in both material and color. 
Leslie found her wreath at Joann Stores, however, we bet you could make your own pretty easily with some pinecones, glitter, and glue.
Image credit: Deeply Southern Home
#3 - Ornament Centerpieces
Ornaments and baubles help you decorate your Christmas trees year in and year out. And odds are that over the years, you've accumulated quite a few of those ornaments and may even have to leave many of them off the tree. 
Thankfully, Sheila Irwin of Maison de Cinq has a great idea that will allow you to take advantage of those unused ornaments and create a beautiful focal point for one of your home's rooms. Simply take your ornaments that are of a similar or complementary color and place them in a bowl to create a bright, shining centerpiece for your home.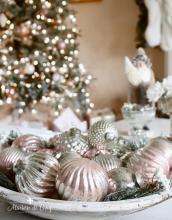 Image credit: Maison de Cinq
#4 - A Hot Cocoa Bar
While this is, admittedly, not a decoration per se, it's still a really great idea. What's a better way to get into the season and welcome guests than with a cup of hot cocoa? 
We first discovered this idea after catching up with Sarah from Room for Tuesday. She gave her home's coffee maker a designated spot in her home and then decorated the area around it with cocoa fixings, holiday mugs, a small garland, and candy canes. We think it's one of the best ways to add holiday spirit to your home and makes it easier for you to entertain and welcome guests. It's the best of both worlds.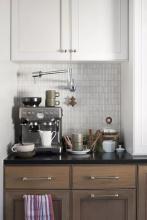 Image credit: Room for Tuesday
Deck Your Halls
If you want to get in the holiday spirit, the right environment can make all the difference in the world. And the above Christmas decorating ideas will help your home feel more cheerful, joyful, and magical. So, serve up some hot cocoa, put up your wreaths, craft paper snowflakes, and display your excess ornaments. 
Need help getting your home ready for guests this holiday season? Decorating is only half the battle. Make sure your home is clean and well-stocked with these home holiday preparation tips.

Sign Up and Save 10%
No, Thanks