4 Fun Ways to Use Pinterest for Your Home's Interior Design
Pinterest is more than just a social network. It's one of the most popular visual search engines, making it the perfect place to find all of your interior design ideas. Pinterest fields more than 3 billion search queries each month, including 600 million visual searches.
As you scroll through your Pinterest feed, you'll encounter pages upon pages of stunningly sleek living rooms, out-of-this-world patio spaces, and other DIYs-done-right. But the platform can give you more than just a little inspiration. There are other ways to leverage Pinterest for your interior design projects, including some surprising features and hacks.
Keep reading to discover how you can use Pinterest to take your next interior design project up a level and transform your home.
1. Make Your Dream Home a Reality
Not sure what your dream house looks like? We guarantee you can find both indoor and outdoor design ideas on Pinterest that fulfill your wildest dreams. In fact, you may even create multiple home decor and interior design-inspired Pinterest boards; one for your luxury dream home; one for a scaled-back, spot in the suburbs; and maybe even one for a cabin in the woods.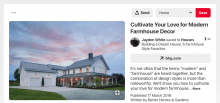 Pinterest Hack
If you're trying to create a jaw-dropping guest bedroom, take a look at what hotel brands are pinning. They're the experts, after all. Hotels decorate hundreds of guest rooms every year.
2. Find Your Next Statement Piece
There's a reason why 93% of active pinners say they use Pinterest to plan for purchases. In addition, 87% of pinners say they've purchased something because of Pinterest. As a consumer, Pinterest is a great place to search for new products and ideas. Pinterest is basically a giant, online catalog of cool new pieces of furniture and decor. So, page through it and pin everything you love, the same way you flipped through your favorite Christmas catalogues and dog-eared your favorite toys as a kid.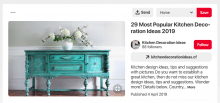 Pinterest Hack
You can make your Pinterest search as broad (e.g., home decor) or as specific (e.g., sisal area rugs) as you want to find the pieces you need. Use the Pinterest visual search feature in their mobile app or browser extension to view saved pins and highlight the products you want. This feature also allows you to search Pinterest using any image you find on the internet. Pretty cool, right?
3. Learn New Tricks From DIY Tutorials
People have been pinning tutorials on Pinterest since its inception. It's where foodies, fashionistas, designers, and mommy bloggers alike share their best ideas and share their step-by-step process for some stellar DIY decor with other pinners, like you! 
These tutorials are a great source of information for quick and easy changes you can make to any room, like painting cabinets or restoring an old coffee table to its former glory.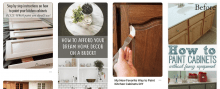 Pinterest Hack
Use Pinterest's search filters to narrow down your results. For example, you can exclude certain boards and people if you just want to see the pin and tutorial steps, instead of all the extra fluff.
4. Reorganize and Revamp Your Boards
One of the best features of Pinterest is the ability to organize your pins into separate boards. There are limitless possibilities, and you can have as many boards as you want! You can arrange your boards by room, color palette, budget—anything you choose. You can even create collaborative boards and invite your friends, family members, or coworkers to add to your board.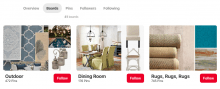 Pinterest Hack
Clean up or reorganize your boards quickly by batch-removing pins, combining boards, or moving pins from board to board individually or in bulk.
It Pays to Pin
If you're looking for fresh inspiration and new home decor ideas, Pinterest is the place to be. You'll encounter endless pins showing you how to take your home to the next level with simple, DIY tricks and life hacks. Whether you use Pinterest to look for new renovation and decoration ideas, find stylish new pieces of furniture, learn DIY tutorials, or organize your inspiration, there's something for everyone on this popular social media platform. 
To easily find your interior design inspiration on Pinterest, make sure you follow these people and their popular boards.

Sign Up and Save 10%
No, Thanks