4 Reasons You Should Design a Custom Rug for Your Home
4 Reasons You Should Design a Custom Rug for Your Home
Not all rooms are created equal, so why do rugs seem to only come in rectangles? Any old standard, rectangle rug can't possibly fit every space. This is where custom area rugs come in handy. Here are four reasons you should design a custom rug instead of going with the standard.
Not all rooms are created equal, so why do rugs seem to only come in rectangles? Not to mention the fact that many manufacturers only seem to offer standard sizes. But what if your room is too big or has odd dimensions? Any standard, rectangle rug will struggle to fit the space.
This is where custom area rugs can bring a lot of value. Made in all kinds of shapes and sizes, custom rugs are designed to your exact specifications every time, no exceptions. And before you think that custom rugs are only for millionaires in mansions, they could actually save you the cost of needing to purchase several floor coverings for one area of your home.
Still unsure if a custom rug is the right choice for you? Here are four reasons you should design a custom rug instead of going with the mass-produced.
1. You Have Angled or Curved Walls
Rooms don't always make a square or a rectangle. Through angled or even curved walls, there are a lot of shapes that your room can take from trapezoids to ovals. If your space has an angled or curved wall, you're going to want to create your own custom shaped rug.
For angled walls, create a custom rug with one of the corners clipped. Before ordering, measure the room a few times to make sure you have the correct dimensions, so the manufacturer can cut the corner with precision. Without a corner cut rug, you'll have to settle for an area rug that is too small for the space and leaves the angled part of the room uncovered, creating an awkward void of empty space.
For a curved wall, take the same approach but with a curved edge. Common curved area rugs are semi-circles, ovals, and rounds, but if you need a unique shape, try drawing a diagram for your manufacturer. This ensures that the rug is cut to match the exact shape you need.
2. The Room Is Either Very Large or Very Small
A small rug in a large room looks almost as awkward as a large rug in a small room. The bottom line is that in both scenarios, a standard rug creates an awkward space that is difficult to design around. Either the room drowns in floor coverings or feels oddly empty. Fortunately, a custom rug is guaranteed to fill the space without becoming overwhelming. Once you decide how much floor you want to leave uncovered, you can design a custom rug that is the perfect fit for your large or small room.
Create Your Custom Rug Online
Don't wait for your dream rug. Draft your concept now.
3. Your Fireplace Juts Out
Fireplaces typically have hearths that expand out from the walls a couple feet. While this creates a warm and inviting space, it also makes it hard to find the right area rug. With a hearth to work around, a rectangle or square rug will have a difficult time hugging around the corners of the hearth, leaving plenty of empty space near your wall. This creates a gap that is strange to look at. By designing a custom rug to fit around the hearth, you can avoid creating those empty spaces and fill out the room.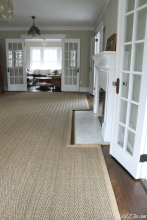 4. Wall-To-Wall Is a Necessity
For lofted areas, stair runners, or great rooms that you need to fill, a custom rug is the only way you're going to cover the floor from wall-to-wall. This is especially important if you want to protect your hardwood floors from heavily trafficked areas of your home like the family room or hallways. This recently came in handy for interior designer Alex Kalita of Common Bond Design. To design her rental apartment, she needed to cover over 80% of her hardwood floors to comply with her lease agreement. Without a custom rug, Alex would have needed to purchase several area rugs and spread them throughout her home, adding to her design costs.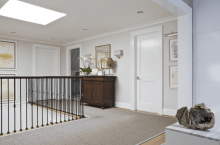 Create Your Own Area Rug
If you're in the market for a new area rug and can't find the right shape or size to get, a custom area rug is your best bet. From angled walls to fireplaces, a custom rug can fit perfectly in any room with odd shapes or furnishings. Design the perfect rug in your home by visiting our create a custom rug page.
Not sure what you're looking for? Let our stylists help you. Fill out our style profile and we will hand-pick six free rug samples for you to try out in your home.

Sign Up and Save 10%
No, Thanks