5 Spring 2020 Home Decor Trends to Freshen Up Your Home
We have amazing news. Winter is almost over. The air is starting to warm and the snow is beginning to melt. Spring is nearly here, and we're as excited as can be. With spring comes a lot of things we've been missing: flowers, birdsong, light jackets, gentle breezes, and, of course, fun new home decor trends.
As winter ends, your home might feel stale. Both from the lack of fresh air and the lack of bright decorations. We're here to help you fix that. Take a look at our top spring 2020 home decor trends we've listed below. They can help you freshen up your home while mother nature freshens up the outdoors.
Our Favorite Spring 2020 Home Decor Trends
Trend #1: Floral Wallpaper
Spring is always a time for florals. That said, they can still bring freshness and impact all year round. This year in particular, the trend is to go bold and feature floral print wallpaper. 
You can go all-in and paper an entire room, or you can try something subdued but still stylish like a singular feature wall. One important thing to note with such bold patterns is to pair them with neutral flooring (like natural fiber rugs) to keep a room from getting overwhelmed.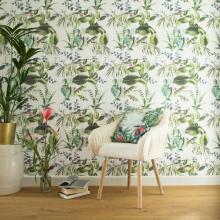 Trend #2: Vintage Accents
Vintage pieces are a great way to show your personality and family history. 
In the 2010's, we saw a lot of modern minimalism. Clean lines, cool grey color palettes, and so on. As we enter the new decade, the new trends emerging are shying away from that. Instead, they're leaning into decorating your home with things that matter to you. Things that feel good. Items like your grandfather's old 10 mm camera or the silver fruit bowl you inherited from your great aunt Norma. 
Don't worry about what other people like when it comes to your vintage accents. Instead, ask yourself: what tale can I tell and what old, storied items can I use to tell it?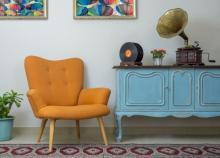 Trend #3: Shades of Blue
Classic Blue is the 2020 Color of the Year — embrace it by introducing it to your home this spring. Because it's such a classic and traditional tone, it can add trendy elegance to just about any room in your home. The choices are endless. You could go for a new blue duvet or towels to add calmness to your bedroom or bathroom. Darker paint on the walls, especially in smaller rooms like the bathroom, can add a surprising amount of depth. Classic Blue was chosen by Pantone because of its trustworthiness and versatility. It can be whatever you want it to be, and that's awesome.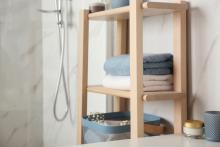 Trend #4: Coffee and Tea Stations
This home decor trend is all about dedicating a space in your home for refreshment and replenishment. A coffee or tea station is a perfect solution for someone who likes having the space to channel their own creativity and hit the reset button.
You can decorate it however you want as long as it includes some key items. For a successful coffee or tea station, you're going to want: a selection of your favorite coffee or tea, your preferred kettle or coffee maker, cups, spoons, napkins, sugar, creamer, and storage containers. There are lots of customization options, too. You can try your hand at a DIY mug display or better define the space with an outdoor area rug that will stand up to potential spills and stains.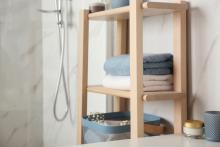 Trend #5: Rattan
Also known as wicker, rattan is a great way to bring the outdoors inside. It allows you to appreciate the beauty of nature all from the comfort of your own space. What's not to love? 
Rattan is commonly found in furniture like chairs, tables, and stools, but is also becoming more and more common as wall art. One thing we like about rattan and wicker is that it's readily available to purchase but can also just as easily be used in cool do-it-yourself home decor projects.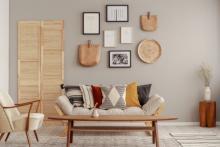 Give Your Home a Refresh This Spring
This year, while you're spring cleaning, give your home the refresh it deserves. Whether through a new splash of blue, rattan furniture, or a new coffee station, both you and your guests will love the new eye candy you've created. 
Want to add more fresh trends to your home? See what else this year has in store for interior design by checking out our hottest interior design trends for 2020.

Sign Up and Save 10%
No, Thanks