5 Winter Cleaning Tips to Keep Your Home Squeaky Clean All Season Long
Skiing, sledding, celebrating the holidays… there are countless reasons to love winter. And while these popular activities may top your list of favorite winter pastimes, we'd venture to guess cleaning salt, snow, and mud off your floors and trying to organize mountains of winter gear fall a little closer to the bottom. 
To help you fully enjoy the winter season, but still keep your home squeaky clean, follow our favorite winter cleaning tips below.
1. Declutter Your Entryway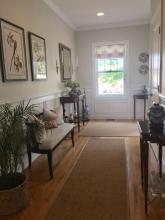 Pictured above: Our Brasilia Sisal Rug Collection. 
Your entryway is the first impression your guests have of your home. It's also the easiest place for coats, hats, mittens, scarves, snow pants, shovels, you name it, to pile up as the months drag on. 
A decluttered entryway makes it easy for guests to get indoors quickly and keeps the cold air outside where it belongs. In addition, it gives guests the impression that you're clean and organized. When winter rolls in, it's your signal to remove unnecessary spring, summer, or fall items from your entryway to make room for bulkier winter gear.
2. Give Everything a Home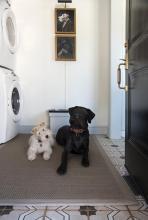 Pictured above: Our Outdoor Sisal Rug Collection in the Fuji Silver Color. 
In the spirit of decluttering, you want your home to be a space to sit back, unwind, and forget about the blistering winds happening outside. Designate a specific place for each item in your home. Use closets, storage benches, shelving units, and wall hooks to keep your belongings organized and easy-to-find throughout the season. In high-traffic rooms, consider a outdoor-rated area rug that can handle dirt, dust, salt, and snow tracked in from the outdoors.
3. Clean the Ceiling Fans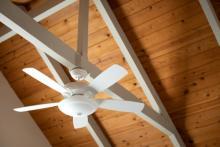 During a long winter, you want to keep your home warm and toasty, not cool and breezy. Ceiling fans are great for circulating air throughout your home, no matter the season. In cooler months, run your fans in a clockwise rotation. This will help draw cool air up and force warm air down. 
You also want to make sure the air circulating throughout your home is clean by keeping the blades of your ceiling fan clean. One easy way is to grab an old pillowcase and place it over one of the fan's blades. Pull it back slowly to remove the dust and continue this process until all blades are clean. This method allows you to trap dust inside the pillowcase, instead of watching it tumble to the floor or find a new home atop your furniture.
4. Winterize Your Home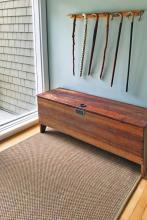 Like the above rug? Shop our Dorado Sisal Rug collection. 
Snow is great for skiing, sledding, snowmobiling… the list goes on. But, once it's tracked inside your home along with mud and salt, snow can become a major hassle for any homeowner. To keep your space in tip-top shape, consider a few of the following ways to winterize your home.
Lay Down Durable Area Rugs
Durable, outdoor-rated rugs—like polypropylene rugs—are perfect for winter. They're long-lasting and easy to clean, so you don't have to worry about wet boots piling up.
Use Tough Doormats
For the same reasons you want a polypropylene area rug, you want to invest in tough doormats that can withstand dirt, salt, and snow all season long. Keep your doormat in place even when the snow melts and becomes slippery by investing in a premium rug pad.
Create a "Boot Bench"
Durable winter boots can be a hassle to put on and take off, especially when you're still bundled up in your winter coat, hat, and mittens. Add a small bench to your entryway or main living space where you and your guests can take a load off and remove footwear with ease. An outdoor-rated rug beneath the bench is also a good idea as it can absorb any moisture that drips off boots and shoes.
5. Replace Your Furnace Air Filter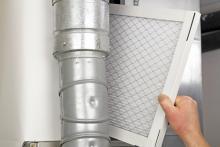 Air filters are vital components of any HVAC system and help ensure the air you breathe stays fresh and filters common allergens and other airborne irritants. After all, the EPA estimates that indoor air quality can be five times more polluted than outdoor air. 
To keep your home's air clean throughout the winter—and all year long—it's important to regularly check and replace your air filter. Here are a few more reasons why:
Increase Efficiency
When your air filter is dirty or clogged, airflow is restricted and your system winds up working harder to do its job efficiently. That means more energy used, resulting in higher energy bills. By replacing your air filter on an ongoing basis, you can increase efficiency and savings.
Breathe Easier
Air filters act as a barrier to dirt, dust, mold spores, pet dander, and more. Regularly replacing your air filter helps it remain gunk-free, ensuring that you and your family breathe the cleanest, freshest air possible.
Avoid Costly Maintenance
Not only do air filters help prevent unwanted particles from making their way into your home, but they also prevent those particles from building up inside your system unit and ducts. Dust and dirt built up within your HVAC system can lead to unwanted (and costly) maintenance.
Fight Cold With Clean
Keeping your home clean throughout the winter doesn't have to be difficult. Even with snow and salt finding their way into your favorite spaces, these winter cleaning tips help you prioritize clean over cold. 
For more winter cleaning tips, check out our favorite cleaning tricks from experts like Martha Stewart, Good Housekeeping, and more.

Sign Up and Save 10%
No, Thanks