6 Fall Flooring Trends to Lay Down Some Style in Your Home
Fall brings with it plenty of trends—we're looking at you, pumpkin spice—and your home's floors aren't immune to its influence. If you need to lay down new floors in your home this fall, find the perfect style floor with these six fall flooring trends.
1. Bamboo
Exotic and eco-friendly, bamboo is a popular flooring option among designers and homeowners. Not only are bamboo floors just as strong—if not stronger—than traditional hardwoods, bamboo usually costs less per square foot because it takes less time to harvest. The rising demand for bamboo has also led to a greater selection of plank sizes, colors, and textures offering homeowners plenty of options to suit their style.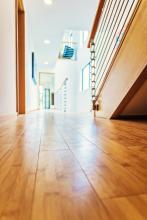 2. Concrete
Sleek, trendy, and definitely edgy, concrete can make any room feel industrial chic. Perfect for a modern or contemporary style, concrete floors will last a lifetime. Although, concrete now comes in so many different finishes and colors, there aren't many styles it doesn't go with. The one drawback that still exists for concrete, though, is its comfort level. Concrete is a hard, unforgiving surface. But the right soft sisal rug can prove to be the perfect accessory to add warmth and softness to your home.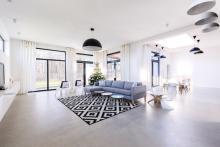 3. Cork
Comfort is always in style and cork is one of the most comfortable flooring options out there, making it the perfect flooring choice for popular rooms like the kitchen. Cork is also eco-friendly and low maintenance, giving homeowners further peace of mind. And if you think cork only comes in one, tan color like corks for your wine bottles, cork floors are now produced in a spectrum of colors like gray, black, white, brown, or red to fit your taste.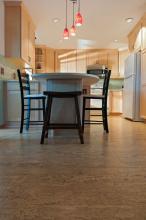 4. Black Stained Floors
Perfect for contrasting with bright furniture and white walls, dark floors—including tiles and hardwoods—are rising in popularity. Homeowners who like the look of smooth, less grainy wood, often prefer dark, black stained floors as the grain is harder to see. This creates a floor with a more modern vibe. The uniform look also makes the room easier to decorate as there are fewer colors to clash with.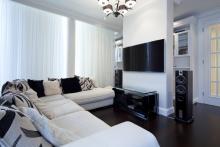 5. Gray Hardwood
Steely and sophisticated, the color gray is putting its stamp on furniture, bedding, wall coverings, and now flooring. Gray is a flexible neutral that goes along with many kitchen, living room, and bedroom designs. And while you can purchase gray hardwood floors from the get go, you can also refinish your existing hardwood to achieve the perfect shade of gray for your home.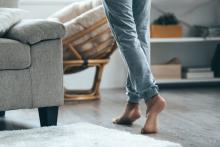 6. Sustainable or Reclaimed Wood
A trend affecting many businesses is the need for local, sustainable goods. For your floors, this means going with a classic American hardwood instead of looking to products from overseas like Brazilian or Australian hardwoods. Oak, maple, and pine woods are forested locally and are replenished after the harvest. If you're looking for a more sustainable option than local hardwood, reclaimed wood is the ultimate recyclable that is the perfect complement to antique and rustic design styles.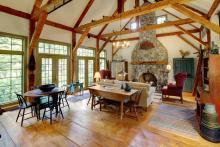 Need some more inspiration for your floors? Discover how a custom sisal rug can take your home from so-so to show-stopping.
Save

Sign Up and Save 10%
No, Thanks