Before and After: Rancho Los Alamitos' Stunning Restoration
Before and After: Rancho Los Alamitos' Stunning Restoration
The Rancho Los Alamitos 7.5-acre historical site recently underwent a major restoration, including the incredible transformation of the front porch. To see the stunning results, check out these before and after pictures.
Recently, we shared the story of Rancho Los Alamitos and its ambitious historical restoration initiative. With 167 total recommendations to be made, Pamela Young Lee, the Executive Director of the 7.5-acre historic site, had her hands full. 
Preserving this 1800s ranch house and estate was no easy task, and even involved removing the home's roof. Because this restoration was so extensive, Pamela also worked on restoring the home's front porch—an area that has seen a lot of use over the years. 
The end result of the restoration was an incredible transformation. To see how Pamela recreated the original furnishings of the home's front porch to extreme accuracy, check out the amazing before and after pictures down below!
Rancho Los Alamitos Restoration: Before and After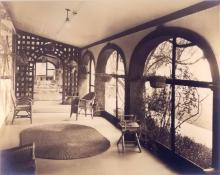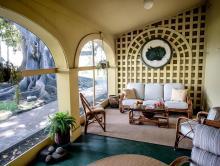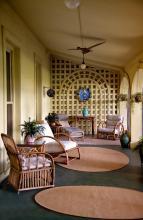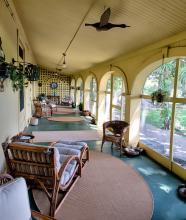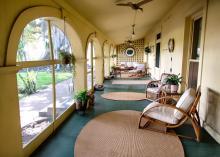 Rugs featured above: Oval rugs are Costa Rica Outdoor Sisal Rugs with serged edge to match. Rectangular rugs are Belize Dune Outdoor Sisal Rugs with serged edge to match.
Photos by Albert E. Cawood
On the front porch, you may notice some familiar items: outdoor sisal rugs. The home's 1931 appraisal determined that the family's porch featured two oval and four rectangular sisal rugs. To get the correct size and shape sisal rugs, Pamela came to us to create six custom sisal rugs. 
We were happy to design and deliver those rugs to help protect the porch floors from visitors for many years to come. And the end result is nothing short of stunning! 
Congratulations, Pamela, for creating a beautiful and historically accurate space! We were thrilled to have helped in any way possible and look forward to doing so again in the future. 
To see more updates from Rancho Los Alamitos, don't forget to follow them on Twitter or Instagram, or like them on Facebook.
Transform Your Own Home
Creating the exact look on the front porch required custom solutions for Pamela Young Lee. Your own home's interior design may require the same level of personalization. But custom doesn't have to mean expensive. Our own custom area rugs can be built to your exact specifications, no matter the shape or the size, for an affordable price.

Sign Up and Save 10%
No, Thanks