The Best Places To Put A Runner Rug In Your Home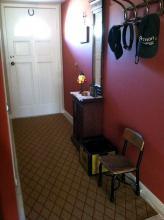 If you have an area in your home that could use a rug but is too narrow for one to fit, you might consider putting down a runner rug instead. Runner rugs are just like regular rugs except they are long and slender. This makes them a perfect solution for hallways and entryways where large area rugs often will not fit. 
Runner rugs can also be placed in large rooms next to long pieces of furniture. For example, a runner rug can be set down next to your bed, providing a cozy place to step down each morning. Use them in the kitchen to create a cushioned area for washing dishes and preparing food. If you have a studio apartment or an open floor plan, use a runner rug to create the appearance of a hallway and design distinct areas for your large open space. 
Runner rugs are a great solution for many smaller spaces, but not all. If you have a uniquely shaped room where a runner rug does not work, you could also try a custom rug. Sisal Rugs has octagon, pentagon, hexagon and even oval rugs, helping you find the right fit for any room. 

Sign Up and Save 10%
No, Thanks