Breaking Down the Top Trends From TISE 2019
Every year, thousands of professionals in the flooring industry gather at The International Surface Event (TISE) in Las Vegas, Nevada, to meet potential customers, chat with vendors and industry professionals, and learn about upcoming flooring trends for the year ahead of us. 
At last year's event, we discovered bold patterns and colors making a splash on floors across the world. This year, we learned about four prevailing trends making their way into homes in 2019.
The Top Trends From TISE 2019
2019 brings a number of exciting changes to the world of flooring and interior design. We know that sustainable, handcrafted pieces are coming back in a big way this year, and TISE 2019 only reinforced the trend. To keep your home on-trend, focus on sustainability and organic materials.
1. Bio-tech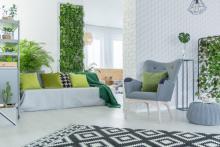 In our modern world, we are hyper-connected to one another. Technology allows us to stay connected to friends, family, and coworkers 24/7. But as humans, we crave connection with nature and the world around us, too. That's where bio-tech comes in. 
This trend puts nature on center stage, but leaves room for technology, too. In 2019, designers will merge "biology" — natural, sustainable elements such as handcrafted goods, upcycled furniture, and natural fiber rugs — with technology to create seamless, collaborative designs.
2. The Peacemaker

Creating peaceful interior spaces is often easier said than done. The Peacemaker trend invites raw elements — such as natural stone and worn wood — into the home to invoke peace. 
Soft grays, taupes, and other neutral colors pair beautifully with pieces found in nature. Consider a stone slab countertop, natural wood flooring, or a pressed flower wall hanging to incorporate this 2019 design trend into your home. Unlike bio-tech, the peacemaker space is low-tech, encouraging those who spend time in it to unplug, unwind, and relax.
3. Radical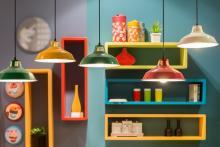 According to TISE 2019, "In order to shape the future, we have to take it into our own hands." This 2019 design trend challenges you to create the change you wish to see in the world using diverse, colorful, futuristic patterns and decor. 
This radical style is big, bold, and abstract. The trend is perfect for the rebellious and the non-conformists of the world, who are invited to break all traditional design rules to inspire a movement of freedom and self-expression in the home.
4. The Traveler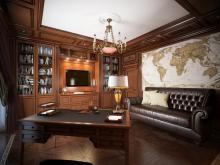 Last, but not least, TISE 2019 introduced us to The Traveler. Picture yourself as a sophisticated, successful businessperson traversing the world. After long days under fluorescent airport lighting, you're looking for a dark, quiet space to recuperate. This trend is for you. 
The Traveler is about mature luxury. A variety of textures — like leather, corduroy, and solid wood — help create a classic look that stands the test of time. Dark hues such as gray, black, and brown will take over walls, bedding, and window treatments, so consider balancing things out with a light-colored area rug, like our Boucle Sisal rug in Bone.
Ready, Set … Get Trendy!
We loved spending time at The International Surface Event this year, and we're excited to begin incorporating 2019's latest trends into our homes. We hope you are, too. 
Whether you're looking to mix technology with nature, relax in peace, get radical, or hunker down in a den of dark, our custom area rugs will complement any space. 
For more trends, check out the top interior design trends we're watching closely in 2019.

Sign Up and Save 10%
No, Thanks