Bring Out Your Home's Springtime Best with 7 Easy, Inexpensive Ideas from the Experts
As mother nature decorates the landscape with her springtime best, you can't help but want to join her by doing the same in your home. But with limited time or money, that can be a challenge. That's why we asked some of our favorite interior designers and home-décor experts to share the easiest and most inexpensive ways they bring in the freshness of spring.
1.  Refresh Colors and Textures
"An easy way to update your home for spring is to swap out your winter colors and textures for softer, more sinuous materials like linen and cotton," says Kerrie Kelly, Founder and Principal Designer, Design Lab.  "These breezy materials can easily make your space feel fresh and revived just in time for spring. Also, add splashes of color via throw pillows, linens, and area rugs. Something as simple as a bright tablecloth can elevate your home.''
Antonino Buzzetta, principal and owner, Antonino Buzzetta Design, concurs.
"Put out a gorgeous table cloth. You've got countless fabrics to choose from to transform your space into something magical," he states in House Beautiful.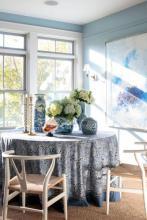 Photo Credit: Antonino Buzzetta
2.  Bring the Outdoors In
"Bring in some life through seasonal plants and fresh blooms and flowers," advises Stephanie Coffaro, Interior Architect, who we recently featured in a series of blog posts about the latest design trends.   "For spring, I think a few well-placed bouquets can bring in pops of color, and make our spaces bright and alive," she continues. "I'm a big fan of tulips and lilies because my mom always had them in the house growing up, and lilies establish a purity and elegance that can uplift any space."
In the process, invest in a new vase or two, recommends Laura Gaskill, a regular contributor to Houzz. Target sells dozens for under $15 or find some for next to nothing at a garage or estate sale. She also recommends bringing garden urns indoors, because "it's less expected than a typical flowerpot and hints at the garden."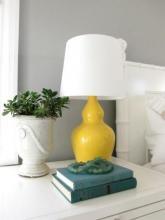 Photo credit: Tara Bussema
3.  Go for Throws and Pillows
"A very minor investment is to bring in some fun pillows and light throw blankets that you can keep in storage when not in season so that you're always ready to change things up throughout the year," notes Stephanie. "Bold florals and organic patterns are definitely on trend this year, and bringing in that freshness that reminds us all of spring."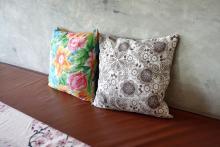 4.  Add an Objet d'Art
"Many people enjoy their curios, and a well-placed artifact like a coffee table book or a few tabletop accessories can really update a space without breaking the bank," points out Stephanie.
Julie Blanner, lifestyle blogger, changes out her artwork in the springtime. "It takes just a few minutes, but offers a fresh appearance," she explains in her blog.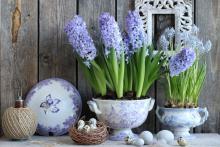 5.  Be Colorful
"Spring is all about color! The most economical way to make the biggest impact in your home is paint," says Gregory Nelmes, owner, Gregory Nelmes Interior Design. "Not feeling like Van Gogh? Then go for new throw pillows in fresh pastels or vivid brights. The covers can be easily changed each season."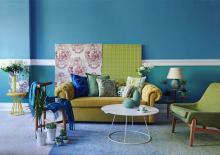 6. Rearrange your space
"Rearrange the floor plan of your living room — it's the ultimate no-cost decorating tip," says Jason Grant, Stylist, in House Beautiful. "Moving around your furniture will be a super-quick update for the new season and will have you feeling brand new."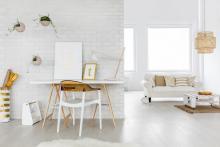 7.  Lighten Up
"Spring is time to open the windows and lighten up your home décor. Some easy and affordable ways to lighten up your home are to change some of the accessories," notes Susan Jones, Vice President, Sisal Rugs Direct. "For example, change up your darker, heavier oriental and wool rugs for lighter sisal and natural fiber rugs. Traditionally, in the south, they would take up all of the heavy, dark oriental rugs and replace them with lighter sisal and natural fiber rugs. You'll be surprised how inexpensive it is to create a rug to perfectly fit your décor."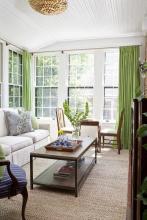 Photo credit: Erika Ward Interiors
Now that you know how easy and inexpensive it can be to bring in the freshness of spring, we hope you're inspired to try out some of the ideas presented by our design experts. Want some more inspiration?  Check out why some of the nation's top interior designers love sisal rugs.
Save

Sign Up and Save 10%
No, Thanks