Creating Sanctuary: A Conversation with Interior Architect Stephanie Coffaro
In a fast-paced, highly digitized, constantly connected world, the need for sanctuary has never been greater. This inspired Stephanie Coffaro, Interior Architect, to develop four fresh interior-design approaches to help balance high tech with high touch; where color, texture and pattern join forces to create the perfect space to relax, rejuvenate and renew.
We met Stephanie at the International Surface 2017 Event in January. It's the world's largest floor-covering event in the world. There she recreated her vision for sanctuary in an actual home that was built on the showroom floor.
"These trends stem from cultural shifts and influences; they're a response to the overly digitized, overly stimulated rapid lifestyle that we've all been living," she explains. "The purpose is to slow down and live more intentionally with pieces that have more of an escapist, calming and soothing feeling."
The faded trend brings together the timelessness of black, white and shades of gray to effortlessly create high-contrast, yet relaxing, spaces.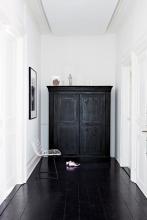 The naturalist trend brings the beauty and therapeutic power of the outdoors inside with soft greens and earth tones, as well as live plants.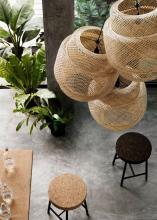 The desert explorer trend satisfies those with a bohemian streak by showcasing the exotic patterns and textures of African, Native American and other tribal cultures.
The raw and refined trend thoughtfully combines old and new for an exciting juxtaposition of industrial, high-tech style with well-worn, well-loved classics.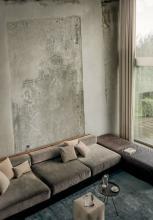 What Stephanie finds especially exciting about these trends is that their elements can be easily combined to reflect your individual style. "We have witnessed an interesting shift in our culture because we are exposed to so many things, we have so many options. With the internet, we can see literally everything and anything we want," she explains. "We can tailor looks to what speaks the most to us." She notes this wasn't an option a generation ago. "You saw and adopted one look, avocado green kitchens, for instance," she points out. "Today we have so much choice. We better understand how spaces can affect us emotionally and physically. We make choices more consciously."
This is one of the reasons Stephanie studies why people are attracted to certain spaces and incorporates what she observes into her designs. Without the confines that come from working out of a traditional studio, she can travel freely and work remotely in places as far flung as Sweden and Cambodia. This helps her broaden her perspective and keep up with the latest trends around the globe.
"When I'm out in public and I look at spaces that people gravitate toward, I wonder why," she explains. "I love observing people; there's a subconscious response to space. There's an emotional draw that brings people to specific elements, like light, plants and water features. There's definitely a psychological thread running through why we choose specific spaces and why we love certain aspects of certain spaces." Want to learn more about Stephanie's unique perspective on interior design? Stay tuned! In future blog posts, we'll go into detail about how each of Stephanie's exciting trends incorporates her observations, and how you can easily and effortlessly recreate each trend in your own home.
Of course, these trends play very well with natural fiber rugs. Get a head start on recreating Stephanie's looks in your own home and have a little fun by playing with our "Create a Rug" feature. You can select materials, colors, textures and borders to instantly see what your perfect rug will look like.
Save

Sign Up and Save 10%
No, Thanks