Go Coastal With These 5 Sophisticated Decorating Tips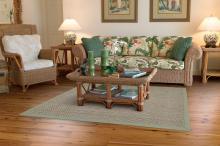 You don't have to live by the ocean to decorate your home in the coastal style. Even if you live right in the heart of the Midwest, you can bring elements of the beach and this sophisticated decorating style into your space. Here are five elements of the coastal style to create a look you'll love. 
1. Light colors
White or a similar pale neutral is often the dominate color in coastal interiors. Use these lighter colors for the walls, linens and/or seating. Then you can add an accent color (a good one for coastal would be blue) with decor. 
2. Natural materials
The coastal style is all about casual sophistication and bringing elements of the outdoors into your home. Take advantage of accessories made from natural fibers. A seagrass rug is the perfect addition to your coastal space. 
3. Great lighting
A beach day isn't a beach day without the sun! To get the coastal look right, let as much natural light in as you can during the day, and be sure to install enough artificial lighting so you can still enjoy a well-lit space in the evening or on a cloudy day. 
4. An open space
The coastal style is never cluttered, so be careful not to overcrowd your space with too many decorations and accessories. Fewer items that make a big impact is best. 
5. Beachy accessories
Add a nautical touch with rope decor or a picture of a sailboat. Sea shells and sea stars are also great options for coastal interiors. 
No matter where you live or what the season is, you can enjoy beach living with a coastal interior style. Keep these five elements in mind when decorating your space to get the look just right!

Sign Up and Save 10%
No, Thanks