A Good Area Rug: The Key to Putting the Finishing Touches on Home Renovations
From installing new floors to rearranging furniture, renovations can mean surface-level adjustments, teardown transformations, or both. 
But what makes or breaks some of the best home renovations? 
While we may be a little biased, we would argue that a good area rug can make all the difference, helping define your new space and complement your new look. 
Don't believe us? Here are five times our natural fiber area rugs helped put the finishing touches on some incredible home renovation projects for DIY-ers like Kim Vargo, Sarah Gibson, and others. 
1. A Cozy, Safe Entryway
Kim and Scott Vargo of Yellow Brick Home had beautiful hardwood stairs. But while they're gorgeous to look at, they were a little too dangerous to walk on — especially with a baby on the way.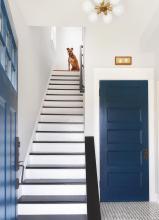 Even though this was a renovation born out of necessity, Kim and Scott found the perfect sisal stair runner that helped cushion their footfalls and provide plenty of grip for climbing up and gliding down steps. Not only did the stair runner help fix the slip, but the classic belize dune color avoided overpowering their unique black and white staircase.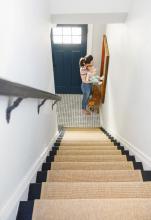 Want the same look for your stairs? Shop our Four Seasons Collection in the Belize Dune color with a cotton Granola border
2. A Carpet-Free Home
Carpet works in some homes, but fails in others. In the case of Sheila Irwin's living and dining rooms, it failed to impress her. And so Sheila set out to renovate her living room and nix her drab carpet once and for all.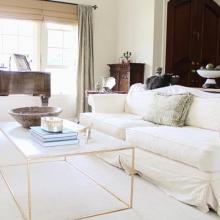 Removing carpet is no easy renovation task, requiring Sheila to take the plunge and invest in hardwood floors. But the change had a huge payoff as Sheila and her family could enjoy the hardwood floors she always dreamed of having. To help define the spaces in her home and add some comfort against the hard surface, Sheila used two custom seagrass rugs.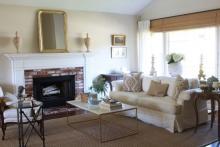 Want to see more of Sheila's awesome work? Check out her blog, Maison de Cinq.
3. The World's Most Chic Laundry Room
Interior designer Sarah Gibson is no stranger to a renovation challenge. In fact, she does them for fun and writes about them on her blog, Room for Tuesday. 
One of her most transformational projects was her most recent One Room Challenge, where she set out to renovate her laundry room. In under six weeks, Sarah and her husband, Emmett, planned to bring the room into this decade with brand new floors, custom cabinets, decor, and more. Talk about a tough task.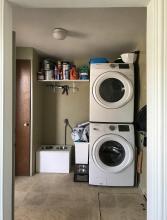 They were able to get it all done, though. From a custom "cabinet kennel" for their two adorable dogs to a custom polypropylene rug that would fill the space without covering their floor vent. Now, their laundry room is functional and 100% unique.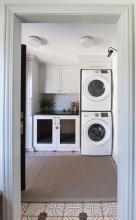 For Sarah's exact rug, shop our Fuji Silver All-Weather area rugs.
4. Large and In Charge Living Room
Kelly Elko has been renovating and decorating her 100-year-old home for years (you can check out her progress on her website). But one room that had her scratching her head was the living room. At 27 feet long and 13 feet wide, her living room was both huge and awkward. The long and narrow size left her living room feeling cramped and crowded. 
But with some strategic arrangements, new furniture, and a custom seagrass rug that fit just right, Kelly's living room feels more open and fresh than ever before.

Have a fireplace or odd shaped room that makes it hard to find the right rug? Take some advice from Kelly and purchase a custom shaped area rug.
5. A Crafty Playroom
Children's playrooms have to deal with a lot of wear and tear over the years — they're well loved and it shows. Decorator and mother of three, Patsy Schmidt, wanted to renovate her home's playroom into a space that her kids would love, but also a space that she could keep clean.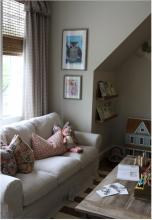 Her first point of business was to find a new sofa and slipcovers so there was a cozy place to hang out that could also be washed in an emergency. And for fun crafts, Patsy's husband crafted a custom table and art box. To put the finishing touches on the room and help define the sitting area, Patsy designed her own custom-shaped sisal area rug.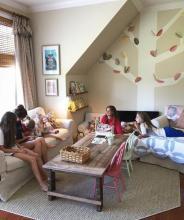 To create a similar rug in your own home, shop our Sisal Sun Collection and select the Sunrise color with a serged edge.
Great Ideas for Any Room
Whether you're renovating a bedroom, living room, or front entryway, there's plenty of inspiration to draw from in the home renovations above. From focusing on function to creating custom pieces, there's plenty of beautiful design ideas above that can help you create a unique, eye-catching space.  And an area rug can help you bring it all together. 
For more design ideas, DIY tutorials, creative decorations, and more, follow these 32 interior designers on Pinterest.

Sign Up and Save 10%
No, Thanks