How to Add the 2020 Color of the Year to Your Home
When selecting the Color of the Year, the Pantone Color Institute is doing more than simply following the latest trends. The selection process is steeped in looking at the world we live in and choosing a color that reflects cultural wants and needs. And according to Pantone, this year's choice of Classic Blue highlights what we all need right now: Rest, comfort, and stability.
Classic Blue is a color that's both familiar and fresh, traditional and trendy. Research even shows that it's a color that can bring a lot of comfort to any home it's added to. 
But where do you even start blending this classic yet on-trend color into your home decor? The good news is that you don't have to break out the paint brush if you don't want to.
If you're looking to be en vogue and use this beautiful deep blue hue in your home, we can help. We've gathered seven easy ways you can incorporate the 2020 Color of the Year into your interior design below.
7 Ways to Use the 2020 Color of the Year in Your Home
#1 - Throw Blankets
Shades of blue have long-been a popular choice in home decor as it is frequently considered comforting and relaxing—just like a good throw blanket. A blanket in and of itself is comforting, but when it's in a color like Classic Blue, it becomes even more so. Imagine yourself wrapped in a deep, rich dark blue blanket with your favorite book, a cup of tea in hand. Feels cozy, doesn't it?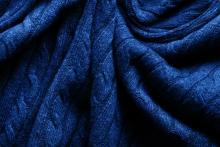 #2 - Decorative Pillows
Throw pillows are one of the most versatile pieces of home decor you can have. For one, they're extremely functional. They give your spine support when sitting on the sofa. They can stand in for a loved one when you need something to hug. They can be armrests, lap desks, or book balancers. But they're also an integral part of your decor and one of the quickest ways to add color into any room. So, if you want to add Classic Blue to your home swiftly and affordably, consider adding a new throw pillow to your couch or bedroom.
#3 - New Bedding
Have a bedroom that needs updating? New bedding featuring the Color of the Year could be just what you need. Some studies have even shown that blue helps lower pulse rates and body temperature. This is helpful when it comes to bedding since it can help you find the calm you need in order to fall asleep. Classic Blue won't only make your room look better, it'll help it feel better as well.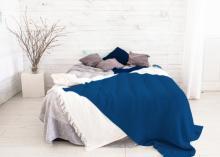 #4 - Towels
When it comes to color, bathrooms tend to have a lot of white. This provides an excellent contrast to the richness of Classic Blue. It makes the color pop more so than it does in other environments when surrounded by lighter, bright tones. Blue is also a great color for towels because it doesn't take on the dingy quality other, lighter colors do after multiple washes.
#5 - Dishes
Your dishes are an unexpected way to bring a new color into your home's decor. Normally seen in white or ivory, blue is a surprising choice for dinner plates, salad bowls, serving dishes, and more. Introduce blue dishware—or even dishes with pops of the classic color—into your kitchen and dining room and your next dinner guests will love the fun, refreshing pop of blue on the table.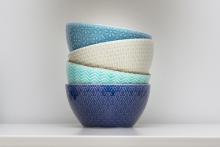 #6 - An Accent Wall
There's nothing as effective at bringing personality to a space than an accent wall. You don't have to commit to an entire room, but you still get the benefits of the color update. A Classic Blue paint job can help one of your walls pop without drowning the entire room in an ocean of blue. Because blue, this shade in particular, is a known, calming color—it's a great choice for spaces like home offices or bedrooms.
#7 - Area Rugs
There are a lot of different ways to add color to your home. Painting a wall or throwing a blanket down aren't your only options. One of the best ways to add colorful flair to a room? An area rug. 
The beauty? You can go as bold or simple as you want to here. Go for a patterned piece like our Commercial Hudson Nylon Rug in Deep Sea Blue.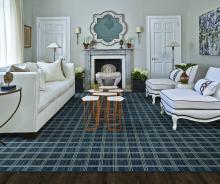 Or if you don't want to fully commit to a colorful rug, you can still enjoy the trend by accenting a neutral rug with a colored border, giving a pop of color. Take our own Playa Polysilk Outdoor Rug in Aqua Mist with a navy border.
Classic Blue is perfect for this because it's deep, dark, and traditional. It can hold a room on it's own or be an accent that's more relaxing than overwhelming.
Where Can I Find Classic Blue Home Decor?
One of the nice things about the latest Pantone Color of the Year is that it's very accessible. You'll be able to find home decor that fits within this new trend just about anywhere you look. When it comes to area rugs, you don't have to look any further than Sisal Rugs Direct. Shop our full collection of blue area rugs here.

Sign Up and Save 10%
No, Thanks