How Sarah Gibson Took Her Laundry Room From Eyesore to Eye Catching
How Sarah Gibson Took Her Laundry Room From Eyesore to Eye Catching
With a laundry room space that was terribly outdated, heavily used, and lacking function, this laundry room needed a major renovation. See how this laundry room was completely transformed in just six weeks by talented interior designer, Sarah Gibson.
Sarah Gibson is an interior designer with big ambitions. In fact, her current projects include completely renovating her entire Salt Lake City home. We're talking every room has to be taken down to the studs to replace subfloors, correct damage, and — of course — give the home a much-needed update. 
If that didn't sound ambitious enough, Sarah has been participating in the One Room Challenge since 2017. The challenge requires Sarah and her handy husband, Emmett, to renovate one room in their home in just six weeks. Having already completed 2017's One Room Challenge by renovating their bathroom, Sarah set her sights on their laundry room for 2018. 
With a laundry room space that was terribly outdated, heavily used, and lacking function, Sarah knew she wanted to tackle updating her laundry room next. So, that's exactly what she did, and she did it all in just six weeks.
Gearing Up for an Overhaul
After purchasing their Salt Lake City home, both Sarah and Emmett new the entire home would need an overhaul. Before choosing to renovate the laundry room, Emmett and Sarah had already begun renovating their kitchen. But with so much traffic coming in and out of their laundry room to get to their kitchen, it made sense to use the One Room Challenge as an opportunity to renovate the laundry room. 
Using the current floors, cabinet, and single shelf, many updates needed to be made to bring the room into this decade. But with only six weeks to repair the laundry room's subfloor and update the rest of the space with a more modern and eclectic style, Sarah and Emmett had quite the challenge ahead of them.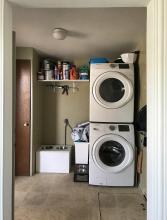 Creating a Chic, Functional Laundry Room
Before the renovation, Sarah and Emmett's laundry room was terribly outdated with not a whole lot of cabinet space and a lot of neutral colors. 
To revamp the room, Sarah wanted to use the same patterned tile for the floor that she used in their kitchen renovation. Not only would this make a seamless transition from the laundry room into the kitchen, but it would also give the laundry room a much needed pop of color and pattern. Sarah also went with a black soapstone countertop to complement the black exterior doors and add a luxurious element to the space. 
Besides giving the room a new look, Sarah also wanted to add function. Through new cabinetry, Sarah was able to create a unique space for their two dogs, Cash and Finn, to kennel up, allowing the laundry room to double as the pet room. And because their dogs would be frequent occupants of the laundry room, Sarah went looking for an area rug as well. By choosing an outdoor sisal rug, Sarah and Emmett could rest easy knowing that mud wouldn't be tracked into the kitchen and that it is easy to wash should they spill detergent onto the area rug. 
"When sampling the rug, we even had our dogs touch the sample to see how durable it was going to be. We did little in-house paw tests! It held up so well, I knew we had the right rug," Sarah remembers. 
Sarah was also excited about the rug as it helped give the room a break from all of the patterned tile. 
"There is so much tile in the laundry room and kitchen. As beautiful as it is, we have over 300 square feet of this same patterned tile. I really wanted a solid texture to break it up, and the laundry room was the best place for it based on function," she says. 
Thankfully, her new sisal look-alike polypropylene rug is the perfect breath of fresh air for the room while still adding to the room's functionality.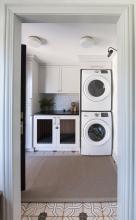 (Pictured is Fuji Silver Outdoor sisal rug with Putty Extra Wide Canvas Binding)
Making Design Easy With Custom Fixtures
As you can see in the images from Sarah's now stunning laundry room, the interior design was anything but cookie-cutter. To achieve her vision, Sarah needed custom elements to truly transform the space into the functional yet modern room she wanted. 
"You can't tell from the pictures, but the ceiling is actually slanted. This meant that the mill work and crown molding were really tricky to install. Thankfully, Emmett was able to make it work despite the challenging angles. The end result really brought my vision to life!" Sarah recalls. 
Aside from custom cabinets that perfectly fit the odd ceiling and allowed Sarah to crate her two adorable dogs, Sarah also needed the perfect area rug to cover up the tile as well as the crawlspace hatch that occupied the laundry room. However, with a floor vent near the edge of the room, Sarah couldn't go with any standard area rug. 
"A custom sized rug really saved us because the room has a floor vent that we couldn't cover. With a custom rug, we could neatly tuck the rug under the washer, leave the vent uncovered, and still have equal spacing around the perimeter," Sarah says of the laundry room's custom rug.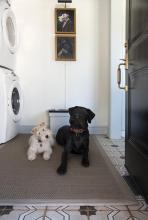 As you can see in the picture above, Sarah's custom rug is well-loved by her two dogs, covers up the awkward crawlspace, and leaves their floor vent unobstructed, making it the perfect laundry room rug. 
Want to get Sarah's exact rug?  Shop our Fuji Silver All-Weather area rugs.
Add Function, Texture, and Style to Any Room
If you're looking to add an area rug to one of your home's many rooms, don't settle for a standard rug size. Make sure you have the perfect rug that matches your room and check out our custom rugs today.
Sarah is constantly renovating, whether it's for her own home or for her clients. See updates from all of Sarah's projects on her blog Room for Tuesday — you just might find the perfect inspiration for your own home renovation.

Sign Up and Save 10%
No, Thanks