Introducing: Our New Polysilk, Outdoor Wool Rugs
Outdoor rugs are the epitome of function.
They're waterproof, durable, mold resistant, and — if you know where to shop — still beautiful. That's why at Sisal Rugs Direct we're excited to announce the expansion of our outdoor rug selection. We're adding new wool-like styles made from polysilk. These new rugs offer the function and durability you know and love, but give additional choices when it comes to color, style, and comfort.
It offers homeowners and designers like you a chance to add needed comfort and coziness to the outdoor spaces you build, and also bring durability indoors. Learn more about our new polysilk outdoor rug options below.
Outdoor Wool Rug: Carmen
The Carmen polysilk outdoor rug feels just like wool under your feet, but offers additional lasting power. Because it's made from mold and mildew resistant materials, it's a great solution for someone who wants an outdoor rug but doesn't want to sacrifice style in the process. That's because our Carmen Collection is available in a wide variety of colors that can easily fit any design aesthetic.
We have neutrals like warm and light Sand or cool, gentle Taupe. We also offer more vibrant colors like Marine blue and Merlot red. The options are plentiful while the durability remains consistent — just what you need in an outdoor rug.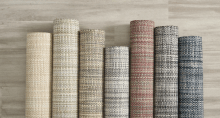 Outdoor Wool Rug: Isla
Hand loomed and beautifully braided, the Isla outdoor wool rug has a thicker pile that sets it apart. Most outdoor rugs are low-pile because people are more interested in function over form when their decor needs to stand up to the elements. The Isla defies this tradition with its thicker, cushier pile and its ability to live outdoors without losing integrity. The 100% water resistant, UV stabilized polysilk fibers that make up this rug are what gives it its unique flair.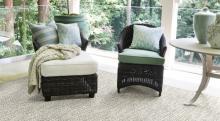 Outdoor Wool Rug: Playa
If softness is your highest priority when it comes to your outdoor rugs, you're in luck. The Playa polysilk outdoor wool rug is the softest we have available. 
These rugs are perfect for people with busy families. Not only do they have a soft, comfortable pile you'd be unafraid to set your little one down on, they're also stain resistant. The Playa Collection is available in a selection of both warm and cool neutral tones that can tie any space (indoor or outdoor) together with ease.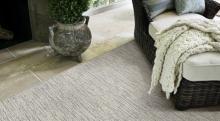 Great Rugs Inside and Out
Like what you see? Good! So do we.
One important thing to note: just because these rugs are labeled as outdoor doesn't mean that's the only place they can go.
True, they're perfect for patios, porches, and decks, but they can also be placed in living rooms, bedrooms, play rooms, and more. Shop our complete selection of polysilk outdoor wool area rugs today to see for yourself.

Sign Up and Save 10%
No, Thanks