It's Complicated Living Room Makeover at an Uncomplicated Price
Have you seen the movie It's Complicated with Meryl Streep, Steve Martin and Alec Baldwin? If you have, you will probably remember the living room and maybe even wished your living room could look like that.  Well, Ginger Rodriguez in her column "Coffee with Ginger" in the North Virginia lifestyle magazine - Zebra - recreated the living room designed by movie set designers and did it at more down to earth prices.
Read the article below: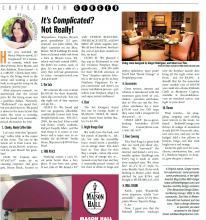 For the rug, that really anchors the whole room; she used our Sienna Brasilia Sisal rug with Adobe Extra Wide Canvas Binding, Blind Stitched in the custom  size of 14' 4" x 14'4"

Sign Up and Save 10%
No, Thanks