Julie Blanner's 5 Secret Weapons for a Clean, Spill-Proof Living Room
From entertaining weekend guests to settling in for a family movie night, living rooms see a lot of activity. And with so much action, there's bound to be spills and messes. 
This presents a problem, however, for most homeowners. Our living rooms are filled with our best decor and furniture as it's so central to our homes. And these messes threaten to ruin, damage, or stain our carefully curated spaces. So what's a homeowner to do? How can you keep your living room clean? 
Lifestyle blogger Julie Blanner has five tips that can help you keep your living room spotless and easy to tidy up. Learn more about the tricks she has up her sleeve below.
1. Organize. Organize. Organize.
It's easier to tidy up when everything has a home. As Julie says, "If everything has a place, it's much easier to maintain." 
So take advantage of closet organizers, containers, and other organization systems to give your living room's throw blankets, remotes, gadgets, and toys a space to call their own. If you have guests coming over, this helps your living room appear less cluttered and has fewer items taking up visible space in the room.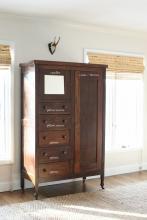 2. If You See It, Clean It
Don't wait until later to pick up a stray item or clean dirt off the floor. If you save it for later, it may never get done. Or, it may even get worse. So, do as Julie does and clean up throughout the day. 
"If I see something in the mudroom that belongs in the office and I'm heading that direction, I drop it off and put it away," Julie says. 
This makes large, deep cleaning tasks a little easier to tackle as well, considering you've already done some of the work.
3. Do a Walk-Through
No one likes guests to see their mess. Before your friends, family, or coworkers come over, Julie suggests taking some time to tidy up. 
"Just before guests arrive I do a quick walk through the house and can usually have it picked up in 5-10 minutes because of the organization systems we have in place," Julie tells us. 
If you took the first tip on this list seriously, this task becomes all the more easy as those items your picking up have a place to go — there's no need to go stuff them in a closet.
4. Make It Easy on Yourself
"We have an asphalt driveway that despite all efforts, transfers onto surfaces inside our home, including our living room rug," Julie says when asked about her homes toughest stains. 
So, how can she keep a clean living room with such tough stains? 
"I found an alternative rug that looks and even feels like sisal, but wipes and hoses clean," she explains.
If you're battling similar tough stains in your living room, like mud, red wine, or spilled food, putting in durable furniture and decor can make all the difference in the world. For example, Julie designed a custom polypropylene area rug that had the exact look and feel she wanted with none of the strict care instructions. In fact, with an outdoor-rated area rug, she could wash the rug completely with a garden hose making it easy to clean up spills and stains. Slipcovers are also great additions to your living room if you struggle with keeping messes off the couch. 
Want the above look for your own living room? Shop our Four Seasons Collection and select the Belize Frost color.
5. Live Minimally
Another way to keep your living room and other spaces clean is to adopt a minimal lifestyle or philosophy. With fewer things cluttering up your living room, the more neat and tidy the room will appear. 
"I'm always purging, letting go of things that only clutter our home and minds," Julie says of her own minimalist lifestyle. 
To reduce the noise in your own living room, consider removing any items that don't need to be there or don't contribute thoughtfully to the space. Notice any oddball items that stick out? Or maybe there's an old, ratty throw pillow that's seen some better years. Whatever the item is, your living room will likely benefit from a brief purge of any unnecessary items.
Make a Clean Break From Bad Habits
Maintaining a clean living room is less about cleaning regularly and thoroughly, and more about adopting new habits that result in a clean and organized space. So live minimally, tidy up as you move about, do walk-throughs, become a master organizer, and set yourself up for success with durable furniture and decor. 
For more tips and tricks for around the home, check out Julie's blog. You'll find new recipes, gift ideas, and inspiring DIY design projects. 
Have a stain on one of your area rugs that just won't go away? Use our rug care and cleaning guide for tips on how to remove even the toughest of stains.

Sign Up and Save 10%
No, Thanks