Living Coral: How to Add a Splash of the 2019 Color of the Year Into Your Home
Every December, Pantone announces the Color of the Year for the upcoming year. And this announcement is much more than just a color trend. For people all over the world, the Pantone Color of the Year determines what our fashion, art, entertainment, and home decor look like. 
This year, Pantone announced the 2019 Color of the Year is Living Coral, a softer-than-orange but bolder-than-pink hue meant to wake up our senses and add warmth to our spaces. 
According to Pantone, Living Coral adds nourishment and comfort to our "continually shifting environment," and "embodies our desire for playful expression." What better way to playfully express yourself than through your home furnishings and decor? 
To keep your home on-trend all year long, try these easy ways to incorporate the 2019 Color of the Year into your favorite spaces.
1. Bedsheets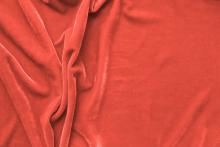 In its 2019 Color of the Year announcement post, Pantone shares that "In reaction to the onslaught of digital technology and social media increasingly embedding into daily life, we are seeking authentic and immersive experiences that enable connection and intimacy." Maybe that's why Living Coral works so well in a bedroom—a space we go to unplug and rewind. 
Living Coral pairs well with white, gray, navy blue, and metallic tones (as well as many others). So, if you already have a set color scheme in your room, Living Coral bed sheets may be just the low-cost item you need to spice up the space.
2. Accent Chairs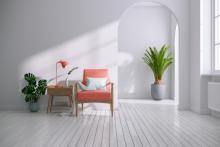 Bright and colorful accent chairs are making a splash in modern decor, and it's easy to see why. These bold pieces are a simple way to update and invigorate virtually any space. If your room needs a focal point, an accent chair will definitely do the trick. Paired with a complementary, custom rug, a Living Coral accent chair could easily become your home's main attraction. 
Designer Joy Cho says a side chair is an easy way to ease into adding new colors and patterns to your space. An accent chair can complement the larger pieces you already have in your home. If you're hesitant to add such a bright, bold color to your home, start small with one chair, and in no time, your home will be filled with all the Living Coral items on this list.
3. Dishes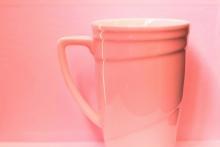 Make a statement in your kitchen by displaying 2019's most on-trend dishware. Instead of cupboards filled with white plates and bowls, add a pop of color with a few new Living Coral kitchen items. Even two or three new mugs can change the way you feel about waking up and reaching for your first cup o' jo in the morning.
And, updating your dishware is more important than just making your kitchen look prettier or more modern. According to G.E.T. Enterprises, color helps set the mood of your tabletop and can shape the experience your guests have of your cuisine. So, why not branch out and add a touch of bold, Living Coral to your dinnerware?
4. Wall Art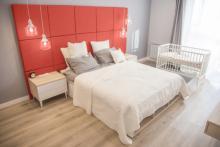 One of the simplest ways to incorporate a new color into your home is to update your wall art. Adding Living Coral artwork to your walls can liven up any room. 
To build a room around a color like Living Coral, Better Homes & Gardens recommends choosing a large focal point, like a rug or headboard, and adding complementary pillows, textiles, and wall art. They also recommend adding plenty of neutral or white accents to balance the bold color. You get the best of both worlds: classic, neutral tones and bright, trendy hues.
5. Towels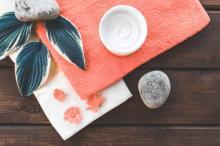 Whether you hang them on a rack or wall hook, roll them up and place them on shelving, or fold them to sit atop your counter, towels are a necessary element in every bathroom and kitchen. So, they're a natural choice when it comes to incorporating Living Coral into your home. 
Because you use towels every day, there's a good chance your existing inventory could use a refresh. Brighten up an otherwise-neutral bathroom with fluffy Living Coral towels that embody everything the color represents: warmth, nourishment, and comfort.
Keep Your Home Up-to-Date with Living Coral Accents
Whatever your existing home style, you can incorporate the 2019 Color of the Year, Living Coral, into your spaces with ease. Consider adding Living Coral bed sheets, accent chairs, dishes, wall art, or towels to keep your home up-to-date and on-trend with the latest styles. 
For more interior design trends, check out some of our most popular posts: 

Sign Up and Save 10%
No, Thanks