Luxurious Miami Beach Hotel Enhances Its Elegance with Sisal Rugs
If you're wondering how to incorporate sisal rugs into your interior design and just can't make it past three-season porch, we have some amazing inspiration for you. The impressively luxurious and upscale Casa Faena Hotel in Miami Beach turned to us to provide floor covering to optimally reflect the hotel's unaffected elegance. It could be one of the reasons why Travel + Leisure Magazine proclaims Case Faena to be "Charmingly and unpretentiously renovated…a Spanish style inn with an atrium that feels like a living room in the Hollywood Hills." We're proud that you'll see our rugs throughout their hotel. They took advantage of our customization and bordered the Kenya Collection's diamond-pattern Indian Summer rug with poppy-colored extra-wide cotton. Below are images of the spectacular results. Here's how you can replicate Casa Faena's style in your own space:
1. Create a Place to Relax
When you want to create a place that will naturally attract people to relax and converse, lure them with a bordered sisal area rug. Notice how effectively this is accomplished in the Casa Faena seating area pictured below.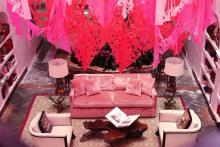 The sisal rug's texture and pattern provide exciting contrast to the velvet couch and refined chairs, and sets them apart from the larger room. Without the sisal rug, the room would lack cohesion and the furniture would appear randomly placed. In contrast, the rug creates a connected, welcoming space.
2. Avoid Boring Perfection and Provide a Safer Environment While a sisal rugs helps make seating areas more inviting and less random, it enhances the sophisticated, yet casual style of Casa Faena bars and dining rooms by complementing patterns and textures. This is achieved without the triteness and boredom of perfectly matched patterns and colors. Furthermore, the rugs' low pile makes it far easier for guest and service staff to move about without tripping.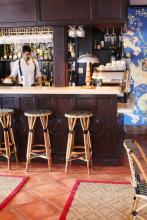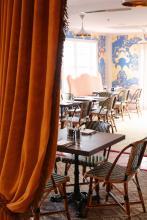 3. Stylishly Protect High-Traffic Areas
Hotels require floor covering that can withstand heavy traffic. That's why sisal rugs are always a smart choice. Their endurance is legendary. Here, Casa Faena adds an extra level of protection to their floors by layering a sisal rug that covers dozens of square feet with an oriental carpet.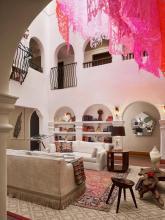 Sisal is ideal for layering because of its flat surface. Again, the sisal rug's border instantly creates a separate space in the large room, making the arrangement of furnishings more intentional and inviting.
We hope you have a chance to visit Casa Faena and see the beauty of these rugs in person. Make these looks your own by exploring our wide array of rug patterns, colors, and borders that we can customize to your exact specifications.

Sign Up and Save 10%
No, Thanks