Make Your Event Even More Special With A Sisal Rug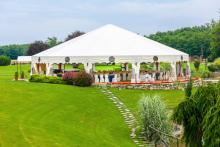 Whether you are planning a wedding or a big charity event, taking the time to include decor in your plans is essential. The right decor can enhance ambience and turn up the sophistication for any special event. There are many different trends, designs and styles to consider for the occasion. One trend that is particularly big right now in the interior design industry is the understated look, where neutral colors are chosen over bold and bright hues, and minimal accessories provide an elegant style. To create this simple, beautiful style for your event, consider incorporating a sisal rug into the decor plan. 
With their interesting texture and organic shades, sisal rugs provide a natural look that goes great with a simplistic style. Better yet is a sisal rug that combines both sisal and wool fibers, which enhances comfort without sacrificing aesthetics. 
Use a sisal rug to welcome guests into your party or create a comfy walking area with a larger area rug. You can even find stylish runner rugs to adorn hallways and aisles. Sisal rugs offers custom designs, which means you can get your rug in any size, as well as any shape. Check out our selection today and bring the latest trends to your big event without going over budget. 

Sign Up and Save 10%
No, Thanks