The Naturalist Trend Brings the Outdoors In
Have you ever felt refreshed and renewed after a walk in nature? That's because you just took what the Japanese called a forest bath, or shinrin-yoku. In fact, the Japanese government recognizes this practice for decreasing stress, elevating mood and building the immune system. The naturalist trend brings these therapeutic powers home with colors and textures that celebrate the great outdoors. "This is my favorite trend," says Stephanie Coffaro, Interior Architect, who developed the naturalist interior-design approach. Find out more about her in Creating Sanctuary: A Conversation with Stephanie Coffaro. "We live in a digital world and we need nature to bring us back to reality," she points out. Stephanie shares ideas on how you can easily adopt this trend.
1. Color your space with earth tones.
"We're looking at shades of greens and taupe-y, warm, earthy colors" notes Stephanie.
She admits that while the pantone color of the year is a green tone, it doesn't translate well into living spaces. "When I have my color swatch in front of me I like to tone it down, bring it a little deeper, and create something more natural with sage or forest green," she explains.
2. Surround yourself with live plants.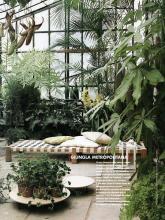 Terrariums and succulents may be easy to take care of, says Stephanie, but the naturalist trend makes the most impact with voluminous greenery. "The naturalist trend is really about embracing nature as it is: big, bold, organic and very leafy," she explains, "like a jungle feeling with big ferns and palms… it's a soothing escape from a high-tech environment."
She advises selecting plants based on how they will fit together holistically into a space. "Which ones speak to you? Which ones do you connect with?" she asks.
3. Decorate with bold wallpaper.
If you don't think you'll be able to maintain plants, Stephanie suggests considering wallpaper as an alternative. "There are so many with big leafy prints and giant flowers, and they're so engaging," she says, adding that wallpaper's permanence shouldn't worry you. "This is a trend that will have longevity. I love being out in nature and bringing it into my spaces; it's very soothing."
4. Invest in natural fibers.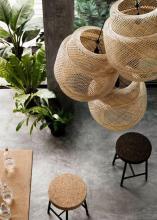 "When we talk about natural, we talk about things that are from the earth, fibers that don't have PVCs or synthetics," points out Stephanie. "The obvious choice is natural fiber rugs. They bring a warmth and a natural energy; they're just not for porches anymore." Stephanie encourages layering natural fiber with wool rugs. "They add warmth and grounding to a space and make it cozier," she points out. Beyond natural fiber rugs, Stephanie points out that furniture, fixtures, and accessories made out of materials such as rattan, jute, and cork can enhance a naturalist look. An added benefit, notes Stephanie, is that they're environmentally sustainable. "The naturalist trend supports the house of our environment. We live in a world where we throw things away so quickly, so it's really important we're making conscious decisions to choose items that won't harm the environment," she points out. "When we throw natural fiber away it's biodegradable. There are no plastics or synthetics, so they have a zero-impact environmental footprint."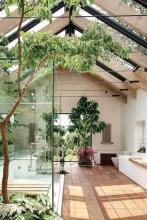 The naturalist look may be one of the easiest, and ubiquitous, trends to embrace. It plays well with other interior-design trends and is destined to be a classic. So that investment in some leafy greens and natural fiber rugs will pay off for a long time in unexpected ways.
"When we seek stress relief and connection, we often find ourselves out in nature. Bringing those natural materials into our spaces transports that natural connection into our homes so it's immediately accessible," says Stephanie. Looking for some natural inspiration? Start with natural fiber rugs.

Sign Up and Save 10%
No, Thanks