Need a New Rug for Your Home? Look No Further Than a Natural Hemp Area Rug
Your furniture is set. Decorations are arranged. Now, all the room needs is a good area rug to tie it all together.
But that's easier said than done. There are countless area rug options to choose from such as nylon, olefin, and even polyester. However, none of those materials are sustainable, eco-friendly options that leave you feeling good about your home's carbon footprint.
Here at Sisal Rugs Direct, we pride ourselves on offering area rugs made only from the best natural fibers at affordable prices. And to expand that offering, we have a new collection of hemp area rugs, featuring new colors and durable hemp fibers.
Learn more about our new natural hemp area rugs and why they'd make a great addition to your home below.
1. Natural Colors That Complement Any Space
Hemp grasses naturally come in different shades that work well with a variety of interior design styles. It doesn't matter if you prefer mid-century modern or a coastal design, the natural beige tones of hemp fibers make for a great fit. And because they're neutral, they can complement a wide variety of color palettes, including bright and bold colors and patterns.
In our new collection, you can find both light and dark shades, making it easy for you to find the right color that will contrast the rest of the room. The colors, which can be seen below, are also un-dyed so you can enjoy them in their natural glory.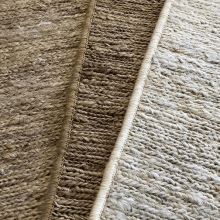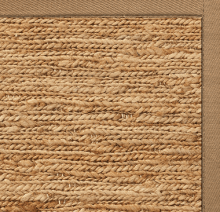 2. Completely Unique, Intricate Weaves
Part of what makes our natural hemp area rugs so special is their exotic, unique weave. As you can see in the image to the right, each rug's weave is hand-loomed, which creates special variations and characteristics that give your rug its own personality. Even though this may result in an imperfect weave, you can feel confident in the fact that each fiber was handcrafted with care.

3. Made From 100% Natural Hemp Grass
For the environmentally-conscious, hemp area rugs are a dream. Harvested from hemp grass fibers found on the slopes of mountains in the Pacific Rim, hemp is a durable, non-porous plant that has a smooth texture and soft sheen.
Given these properties, hemp area rugs themselves are very durable and have liquid-repelling properties. After the hemp grass is harvested, the fiber is separated and dried to create a distinct color that is rich and warm — colors that are also found in the finished area rug.
Want a Unique, Natural Look for Your Home?
If you like what you read above, a natural hemp area rug will bring warmth into your home, as well as exotic and unique textures that you can't find with any other natural fiber rug. And each rug is durable to boot, making it a no-brainer addition for your most-loved spaces. Check out our new collection of hemp area rugs to experience them for yourself.
Not ready to commit? Don't forget to take advantage of our Try Before You Buy program. Let us know a bit more about your home or design project, and we'll hand pick several rug samples for you to test out. Then, just let us know which rug you like the best.

Sign Up and Save 10%
No, Thanks