New for 2019: Introducing 7 New Natural Area Rugs You'll Love
The beginning of a new year brings with it a fresh start in every area of your life. Maybe you've resolved to tidy up your home Marie Kondo-style, or you're looking to incorporate more natural, sustainable pieces into your space. Whatever your goal, giving your home a fresh, new look to accompany your New Year's resolutions is an excellent way to start reaching them. 
And what better way to give your space a face-lift than with a new natural area rug? Here at Sisal Rugs Direct, we're releasing a handful of new area rugs to help you ring in the new year in style. 
See the best of what 2019 has to offer down below!
1. Hemp Grass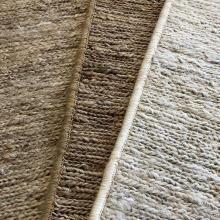 Love this look? Shop our selection of custom hemp grass rugs. 
If you're looking for a sustainable option that'll leave you feeling better about your home's carbon footprint, look no further than a natural hemp area rug. Hemp is a biodegradable, renewable, and eco-friendly option for flooring. Its natural fibers are soft to the touch and have a comfortable feel underfoot. Hemp rugs are great for a variety of reasons, such as: 
Versatility. Hemp rugs come in a range of neutral and naturally-occurring colors that complement virtually any interior design style.
Unique weave. Hemp rugs are hand-loomed, giving each one a completely unique look. If you're looking for unique pieces to help you make a lasting impression with guests, hemp rugs are a great option.
Eco-friendly. Hemp rugs are a durable, non-porous, and liquid-resistant option that has a smooth texture and soft sheen. 
Our new selection of natural hemp grass area rugs includes a variety of dark and light shades, making it easier for you to choose the perfect rug to fit your space.
2. Trinidad Sisal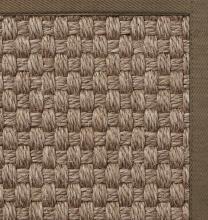 Add texture to your living room or dining room with a Shaker Gray Trinidad Sisal rug. 
Trinidad sisal area rugs and runners are perfect for living rooms, dining rooms, bedrooms, and hallways. (Okay, they're perfect for practically any space.) Trinidad sisal is thick and typically woven into a unique, basket weave design. The fiber is anti-static, sound-absorbing, naturally resilient, and flame-resistant. Plus, it's totally versatile. 
At Sisal Rugs Direct, our Trinidad sisal rugs can be edged in eight different binding materials and are available in three color tones.
3. Kava Sisal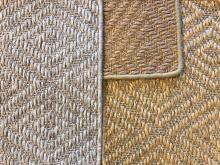 Our elegant Kava Sisal Rugs are available in three colors. 
Kava sisal rugs bring elegance, pattern, and life to any room. Available in three colors, the collection at Sisal Rugs Direct features tone-on-tone fibers and a flat-woven design, as photographed above. Tone-on-tone sisal colors do not distract from the beautiful way this rug is woven. In fact, we think these colors enhance the layout of this design.
Add a pop of pattern and a touch of fun to your home by incorporating a patterned kava sisal rug into an otherwise potentially plain space.
4. Merino Wool Sisal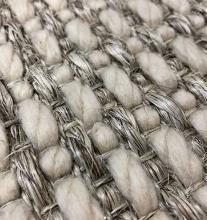 Need a rug to keep you warm? Our Merino Wool area rugs are a perfect option. 
For the same reasons you love a warm, wool sweater or thick, woolen socks, you'll love a merino wool rug in your home. Soft, sound-absorbing, and naturally resilient, it's hard to resist these wool fibers. And at Sisal Rugs Direct, our merino wool styles come in four unique colors. 
Merino wool area rugs can be easily maintained with regular vacuuming and should be kept away from excessive moisture. They'll add a touch of sophistication to any living room, dining room, or bedroom.
5. Patterns Wool Sisal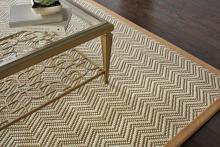 Take your room from simple to stylish with a Patterns Wool Sisal rug. 
Sometimes, a one-color rug just doesn't cut it. Adding a patterned area rug to your family room, bedroom, or home office is an easy way to add a bit of personality to the space. And that doesn't mean the pattern has to be bold and bright. Subtle patterns can still draw attention without completely taking over your favorite space. 
At Sisal Rugs Direct, our Sisal Wool Patterns Collection is equally as stylish as it is sustainable. Our patterns wool sisal comes in three patterned styles: diamond, Greek key, and chevron.
6. Tides Wool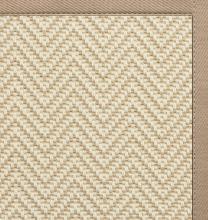 Make a splash in your favorite space with a Tides Wool area rug in Coral. 
Wool has a natural lanolin coating that wicks away moisture and prevents stains, which means a wool rug is perfect for any season or space. Our Tides Wool Collection of flat-woven, natural area rugs will make you feel like you're on a beach — even in the dead of winter. 
Tides wool area rugs are made of natural materials that help humidify your home. They're available in five earthy colors aptly named after items you might find within the ocean's tides: conch, coral, manatee, oyster shell, and reef.
7. Arrow Sisal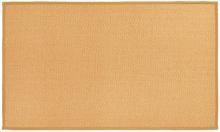 This stylish, Arrow Sisal Rug is available in five natural colors, including Friendly Tan. 
Arrow sisal rugs provide all the benefits of a traditional sisal rug, with an added, subtle chevron pattern. This sleek design complements any space, without taking over as the focal point of the room. Available in five neutral colors, our 100% sisal and latex-backed, flat-woven arrow sisal rugs can be edged in 10 different binding materials to match the design style of your home.
Stylish and Sustainable Natural Area Rugs
Sustainable, handcrafted pieces are making a big comeback in 2019. If you haven't already incorporated a natural area rug  into your home, this is the year to give it a try. With more options than ever before, Sisal Rugs Direct can help you find the perfect natural-fiber area rug for your home. Our newest designs will help you stay stylish and sustainable all year long. 
Not sure which of our new products you want to buy for your home? Use our Try Before You Buy program to narrow down your options!

Sign Up and Save 10%
No, Thanks