Outdoor Design Trends: 5 Ways to Heat Up Summer 2018
In June, we discussed how to design a stand-out patio to create the perfect space for entertaining in the summer. But how do you take your beautifully built patio, deck, or other outdoor space from good to great? It's all in the furnishings and décor you use to style your outdoor living area. 
Compared to previous years, 2018 is all about creating an exterior space that looks and feels like it was meant to be indoors. Outdoor living has transformed from a simple seating area to a complete expansion of your home. 
Below, we listed some of 2018's top outdoor design trends to help ensure your patio, porch, or other creative outdoor space is in style and will have you loving the outdoors this summer season.
1. Add Light With Outdoor Floor Lamps
Summer is in full swing and warm nights are here. Outdoor lights allow for the fun to continue long after the sun is set. Lighting up your outdoor space not only serves as a safety feature for your guests, but also creates an atmosphere that is tranquil and inviting. 
While string lights have been a hot trend for several years, floor lamps are taking over this season. Use a fun outdoor floor lamp in place of traditional string lights to create a relaxed and special ambience on your patio this year. An outdoor floor lamp will provide a subtle glow for your party or offer a clear view of the night sky during an intimate night in.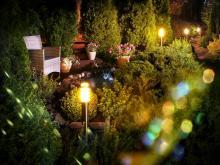 2. Treat Your Patio Like a Living Room
More and more homeowners are seeing their outdoor spaces as an expansion of their home, bringing the indoors out. This means transforming your outdoor area into a seemingless blend of your interior kitchen, living room, and entertainment areas. 
So, when shopping for outdoor furnishings, think of it as an extension of your living room. Don't hesitate to use furniture, décor, and styles that are traditionally used indoors as a part of your outside design - just be sure to use items that are still built to withstand the elements. Items such as outdoor rugs, throw pillows, outdoor couches, and the previously mentioned floor lamp can help to create a space that is trendy, yet as cool and cozy as the inside of your home.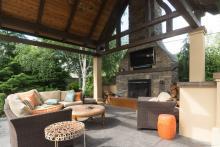 3. Use a Neutral Color Palette
This year's outdoor design trends are all about minimalism and nature. As a result, neutral color palettes are in. Neutrals offer a timeless, classic look that won't go out of style like a bold, bright pattern. In addition, the natural colors of your landscaping are really able to shine and pop when your patio has a neutral tone to contrast with. 
When considering a natural color palette, think of colors such as white, beige, taupe, grey, and black. Though these colors may often be thought of as "boring," they can create the perfect, subtle backdrop for other colors within the space.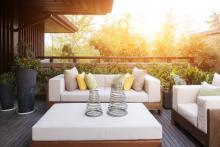 4. Pot Your Greenery
Going along with the minimalism and nature theme, terracotta colored garden pots are a perfect way to display your plants. Terracotta pots are also classic fixtures that won't go out of style, making them a great asset for any outdoor space. 
Avoid planting a jumble of different flowers or herbs in a single pot as it can quickly look messy and overgrown. Instead, opt for a one-plant-per-pot method. This will make your outside space look and feel much more organized and modern. And as an added bonus, plants that are potted individually are often easier to maintain.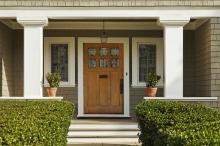 5. Avoid Metal Outdoor Furniture
In the past, wrought-iron has been a staple for many patios. However, with this year's outdoor design trends, which focus on nature and natural colors, this material feels a little out of place and too industrial. Instead of wrought-iron, wire, or metal furnishings, go for a wicker or wood option. 
Wicker and wood furnishings create a more open and airy atmosphere on your patio. Plus, wicker and wood furnishings work well for all patio styles as both materials are easily adjustable. For example, wicker and wood are great additions to contemporary, coastal, or rustic outdoor spaces.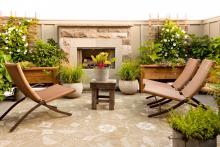 More Outdoor Design Tips to Get Your Inspiration Flowing
Feeling inspired to bring the indoors, outdoors this summer? For more tips and guides on outdoor design check out our Ways to Create Cool Spaces for the Summer and Tips for Setting Up the Perfect Outdoor Table.  

Sign Up and Save 10%
No, Thanks