Polypropylene or Wool Rugs? Which One Is Right for Your Home
Choosing an area rug is no small decision. Whether you want a statement piece to add style and sophistication to your bedroom or living room, or you're looking for something more functional and dependable to withstand kids, pets, and heavy foot traffic piling into your entryway or kitchen, a polypropylene rug is a great option. Durable, water-resistant, and always in style, a polypropylene rug works well in any room — indoors or out. 
But, what about other types of rugs, like wool? You know and love the fiber for your winter hats, scarves, and sweaters, so there's a good chance you'll love wool area rugs, too. Wool is a comfortable, natural, and sustainable fiber that works in whatever space you place it. 
So, which of these types of rugs is right for you? Read on to uncover the benefits of polypropylene vs. wool rugs, and which is the best fit for your home.
The Benefits of a Polypropylene Rug
Polypropylene rugs are designed to look and feel like wool, sisal, and other natural fibers, but are made from synthetic material. This makes them the most durable and easiest to clean option for both your indoor and outdoor spaces. Not only are polypropylene rugs comfortable and resilient, but they're also extremely versatile, functional, and—believe it or not—soft! 
Learn everything you need to know about polypropylene rugs here.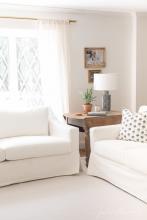 We love the way this Belize Frost indoor-outdoor sisal rug ties this breezy living room together.
The Benefits of a Wool Rug
Wool is a warm, cozy, soft-to-the-touch fiber that works well in nearly any space. It's a natural, sustainable, fire-resistant option for your home, that's also surprisingly durable. This is mostly due to the wax, or lanolin, that naturally rests on the surface of wool fibers. This lanolin coating prevents spills and messes from seeping in and staining your new wool rug. 
For more facts about decorating with wool, read up on these five qualities of wool rugs.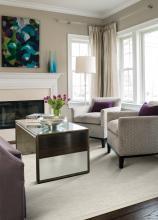 Does your living room need a makeover? A lido wool rug in oyster is always in style.
Polypropylene vs. Wool: Which One Is Best?
Now that you know the differences between polypropylene and wool rugs, how can you determine which material is right for your home? 
First things first, ask yourself where the rug will go. Are you redecorating a bedroom or living room, or are you giving your bathroom or kitchen a facelift? Do you need comfort or durability? 
Bedrooms and living rooms typically encounter less foot traffic and fewer spills than other rooms, so, a soft and comfy wool rug is a great option. Your bathroom and kitchen, on the other hand, are high-traffic areas where water and other products may spill at any moment. For these reasons, a durable and easy-to-clean polypropylene rug is likely a better fit.
The Right Fit Underfoot
Whatever rug material you choose — polypropylene, wool, or another natural fiber like sisal or jute — understanding their benefits can help you make an informed decision for your home. Whether you're decorating indoors or out, there's a rug out there for you. 
Ready to shop? Check out our vast selection of polypropylene or 100% wool area rugs. If you're not sure what your room needs, fill out your custom style profile and our in-house interior designer will find you the perfect match!

Sign Up and Save 10%
No, Thanks