Preserving the History of Nantucket With the New York School of Interior Design
Nantucket isn't just a summertime destination for pristine sand beaches and boutique shopping. The island of Nantucket is vibrant with history and charm, including more than 800 structures that pre-date the Civil War.
In an effort to preserve the island's unique history and character, the Nantucket Historical Association (NHA) created Nantucket By Design, a week-long fundraising event celebrating Nantucket's past and future. The climactic event in the week-long celebration is the New Party at the Oldest House. But to get the house ready to wow charitable guests and leave a mark on Nantucket, the NHA partnered with the New York School of Interior Design (NYSID). Here's how the NYSID and two of its talented students set out to design a room in Nantucket's oldest house.
It All Started With a Killer Concept
How do you bring modern design into a home that was erected in 1690? It's a difficult premise that instantly drew in NYSID students, Ajaee Shepard and Mae McKenna. Challenging themselves with creating a strong contrast to what might usually be in a 1600s Nantucket home, they created a design concept, "Bauhaus by the Sea."
"It was the last thing you'd expect in the oldest house," Ajaee said. In fact, the strength and unexpectedness of their concept is what helped them earn the project in the first place, beating out other students in a competition to design a room in the old house.
Their design fusion involved taking geometric shapes and marrying them with the bright freshness of nautical design, which was no easy task.
Designing a 1600s-Era Living and Dining Room
For their design contributions, Ajaee and Mae designed the largest room in the house, which proved to be a little difficult considering its size and function.
"It's a very large space because it used to be the only room that the family used all of the time," Mae said. "They slept, ate, cooked, and worked all in that one room to conserve heat."
To preserve the importance of the room and take advantage of such a large space, Ajaee and Mae created a living and dining space. And to help distinguish the eating area, they searched for the perfect rug and found us, Sisal Rugs Direct.
When we heard that the NYSID needed a sisal rug for Nantucket By Design, we jumped at the chance to help them complete their project and donated one of our all natural fiber rugs for their room.
"The rug ended up being the perfect size for all of our furniture and because it had a black trim, it paired really well with our black design elements," Mae said.
Nantucket's oldest house before the event: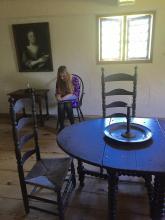 Nantucket's oldest house with Ajaee and Mae's design concept: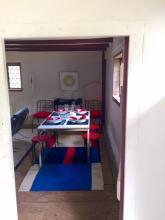 Preserving Nantucket's History
With the design complete, Nantucket By Design's finale event was a smashing success.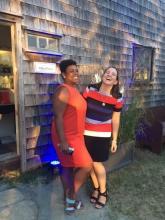 Pictured above: NYSID students Ajaee Shepard and Mae McKenna
The project not only helped highlight Nantucket's longstanding history, but also helped two design students propel their careers. Ajaee is already starting work with a real estate development firm, and Mae has her sights set on an internship next fall.
We couldn't be happier to have donated to the NYSID and the NHA and look forward to doing so again in the near future.
Save

Sign Up and Save 10%
No, Thanks