A Quick Guide to Natural Fiber Rugs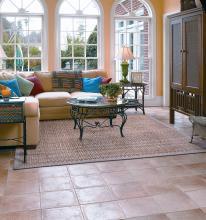 Natural fiber rugs are a go-to favorite for simple, affordable décor. The subtle designs and earthy textures make these rugs versatile and easy to place in any room. Still, not all fibers are created equal. Some are thick and strong, while others are soft and less durable. Knowing the characteristics of each type of fiber is the first step to choosing the perfect rug.
Jute – Jute rugs have a natural brown hue and are the softest of all the natural fiber rugs. They are perfect for areas like the bedroom or family room where bare feet can enjoy the soft fibers. Our Jute rugs are their beautiful natural color and no dyes are used in production.   
Sisal – Sisal is the toughest of all natural fibers, making sisal rugs the strongest and most durable of the natural fiber rugs available. Because of their durability, sisal rugs are ideal for high-traffic areas, like entryways, hallways and kitchens. 
Seagrass – Seagrass rugs are made of thick, durable fibers grown in saltwater marshes. Like sisal, seagrass rugs are incredibly durable and can be placed in areas with heavy foot traffic. What sets seagrass rugs apart from other natural fiber rugs, though, is their unique coloring and texture. These rugs are usually a light beige with hints of sage green, and the thick weave produces a beautiful, textured appearance you'll want to show off.
Hemp Grass – Also known for durability and texture, hemp grass rugs have a coppery brown hue and are a striking addition to high-traffic rooms. Hemp grass fibers are similar to the Seagrass fibers but are softer and have a darker tone.   

Sign Up and Save 10%
No, Thanks