The Rug Trends You Need to Know for 2020
In the famous words of Heidi Klum, "In rugs, one day you're in, and the next—you're out."
Okay, that's not an exact quote. But you get the point. 
Every year, there are unique design trends that apply specifically to rugs and floor coverings that determine whether your home is "in" or "out". And as your go-to rug experts, we want to help you make sure you're following those trends as we go into 2020. 
So, without further ado, read on to discover the top rug trends of 2020 and how they can be incorporated into your home.
The Top 4 Rug Trends for 2020
Trend #1 - Bold Prints and Patterns
Bolder is better in 2020. Taupe, cream, grey, and other natural neutrals have been a go-to for the last decade. But the new decade is ushering in bright jewel tones. 
These shades include colors like Pantone's pick for 2020 Color of the Year, Classic Blue. Our own Commercial Hudson Nylon Rug in Deep Sea Blue is a lovely example of this color and print at work.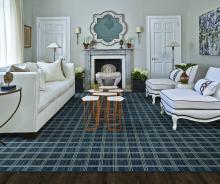 As far as patterned rugs go, colors span the gamut. However, we're seeing patterned rugs feature an interesting mixture of line and space, with a special focus on geometric shapes.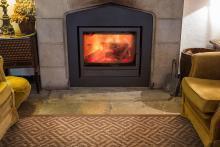 The bottom line? Boldness is on trend because being independently stylish is on trend. All you have to worry about is choosing the things you love—bright colors included.
Trend #2 - Layering Your Rugs
As you seek to find our own style voice in 2020, you won't be willing to compromise on your gut instinct. That means choosing something uniquely you. One way this may manifest itself is in rug layering. So good news: If you can't choose between one favorite rug and another… that's okay! You can just use both. 
However, if you're going to go all-in on this look, there are some key considerations to make when layering rugs. For example, it's best to use flat weaves for the top layer to avoid tripping hazards. You can use rug layering to create visual distinction and space in a large room without the cost of brand new carpet.
Trend #3 - Classic, Natural Jute Rugs
There's nothing quite like the texture of a naturally soft fiber like jute. That's why jute rugs are continuing to be a big trend in 2020. 
Jute, sometimes referred to as hessian, is a vegetable fiber that is frequently manufactured into bags, linens, and (you guessed it) rugs. Their chunky weaves make them perfect for layering with other rugs while helping them maintain their well-known softness.
Trend #4 - Using Broadloom Rugs and Carpet
To be considered broadloom, a rug or carpet needs to have been woven on a wide loom. Generally, these rugs and carpets are tufted and installed wall to wall. Broadlooms are trendy because they come in large rolls and are easy to have installed. 
After the previous decade of hardwood being a main flooring choice, people are starting to refocus on carpeting. They're craving warmth beneath their feet.
Wall-to-wall broadloom is affordable, traditional, and available in every single one of patterns and colors. It's also soft. This means it's an ideal solution for anyone looking to stay trendy while making their home a cozier, comfier place to live.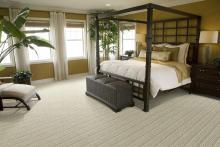 Stay In-Trend on Rugs in 2020
As the new decade gets off to a racing start, stay on-pace and in-trend by embracing these 2020 rug trends.
What other interior design trends have caught our eye in the New Year? Check out our list of top interior design trends for 2020.

Sign Up and Save 10%
No, Thanks