Shop Our Black Friday in July Sale! Enjoy 20% Off Site-Wide
Black Friday is a time for great deals, shopping with family, and recovering from Thanksgiving turkey. But you don't have to wait all the way until November to enjoy incredible savings.
To celebrate summer and the Fourth of July holiday, we're having a sale of epic, Black Friday proportions. Just how big is the sale? From Monday, July 2 until Friday, July 6, we're taking 20% off of everything. That's right, everything.
 Black Friday deals are here early, so make sure you pick up some of our top items, including:
Custom Area Rugs
Custom area rugs are often thought of as expensive additions to your space. However, they could save you the cost of having to buy several area rugs to cover one space. If you're still worried about the potential cost of building a custom rug, this 20% sale means you could save big. It doesn't matter if you need wall-to-wall carpet, a custom cutout for a fireplace, or just a larger-than-normal rug, we have you covered and it won't break your bank.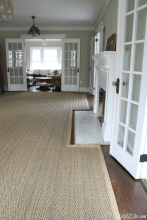 Want the look featured above? Create a custom Seagrass area rug in the Seabass rug color and a Pale Ash border. 
Outdoor Polypropylene Rugs
The great outdoors and high traffic areas in and around your home have a reputation for being tough on area rugs. Instead of worrying about the wear and tear on your rugs, lay down a durable indoor/outdoor polypropylene rug. These rugs look just like sisal but are extremely strong, easy to clean, and comfortable. There's no better time than right now to replace your worn out rugs with a strong and safe polypropylene area rug now that they're all 20% off.
Need a really large outdoor area rug? Our new Islands Collection comes in sizes up to 16 feet and 2 inches wide, which is massive! Below is one of our Islands Collection rugs in the Mallorca Opal Sand color as a wall-to-wall application to cover the entire patio.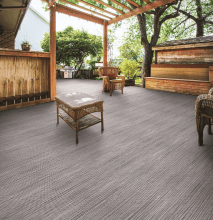 New Patterns Wool Sisal Collection
Patterns are fun, textural ways to create an eye-catching space. Our new Patterns Wool Sisal Collection has three different bold patterns for you to choose from to ensure that there is the perfect pattern to fit your interior design style. Made of a natural New Zealand wool and sisal blend, these area rugs are soft and comfortable without sacrificing durability. In fact, wool is naturally stain resistant and anti-static.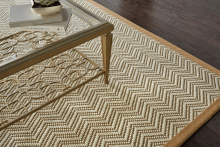 Shop the rug above by viewing our selection of Patterns Wool Sisal Rugs. This rug is the Wave Sahara pattern with a Granola border. 
Host Dry Carpet Cleaning Kit
If you're not in the market for a new rug, this is still the perfect time to stock up on cleaning supplies. Our spot cleaner and rug protectant should also be shopping items on your list, but the Host Dry Carpet Cleaning Kit is such a good kit that even Martha Stewart uses it. And it has the biggest savings of our cleaning products, meaning you'll save $7.59 on each kit during our Black Friday in July Sale.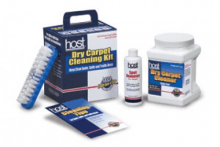 Get Your Black Friday Shopping Done
During our Black Friday in July Sale, we're taking 20% off of everything. So, don't wait until Black Friday to save big—get shopping now!
Just use the code JULY4 at checkout to apply the 20% discount from Monday, July 2 to Friday, July 6. 

Sign Up and Save 10%
No, Thanks