Sisal Rugs Direct in San Diego Magazine
Check out Sisal Rugs Direct in the November 2013 issue of San Diego Magazine.  The article is titled 'Glass Castle- A cozy, eclectic home in Rancho Santa Fe' by Kimberly Cunningham. 
'They've kept the décor to a minimum, letting the architecture speak for itself. "I really wanted to do something natural in here," says Boo, 33. "I didn't want to detract from the ambiance."…. The result is something low-maintenance and chic that adds just the right pop of color to the stunning glass room.'
The custom rug used in the glass dining room is the Seagrass collection color Seabreeze.  Seagrass is a great option for dining rooms as it is very durable and naturally stain resistant.  This makes this area rug perfect for homes with pets and children.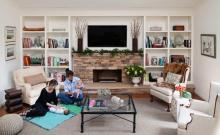 In the living area the rug used is Mali Sisal color Mink.  This has been one of the most sought after colors due to its beautiful taupe and gray tones that are so popular in decorating today.
-Create your own Seagrass area rug here
-Create your own Mali Sisal area rug here
Do you want to get the same look?  Give us a call and one of our representatives would be happy to help you!  1-888-613-1335

Sign Up and Save 10%
No, Thanks