Teaming Up with Treehouse Masters to Create the Perfect "Rumpus Room" Treehouse
Every kid dreams of having their own treehouse — an oasis of their own where they can make believe, camp out, or play games with friends. But who says adults can't have one, too?
Pete Nelson and his team of expert builders step in to make that dream a reality. And Animal Planet is there to document the build on their show, Treehouse Masters.
As a big fan of their show and the incredible creations Pete is able to craft, we couldn't have been more excited to create a custom seagrass rug for one of their builds. Once we heard Pete wanted to make a "rumpus room" treehouse — a room dedicated to adult play, games, parties, and recreation — we were even more eager to help out. Read on to hear more about the project and see the finished space.
Creating a Fun, Playful Space
For this treehouse masterpiece, Pete and the gang wanted to build a playroom for adults. They made plans for a card table, hot tub, cornhole set, outdoor bar, and plenty of other activities and spaces that make for an outdoor retreat filled with fun and games.
The fact that the treehouse was also for their friend and forklift supplier, Russ, also added pressure onto Pete to make sure he got the build just right.
While play was the main focus for this build, Pete didn't want it to look and feel like your typical backyard treehouse. He wanted to make sure it felt like a home that could be lived in and furnish the treehouse into a fun, yet stylish space.
A Styling Good Time
While Pete makes building architectural giants up in the trees look easy, the team needs some interior design help to transform the treehouse into a beautiful hangout. And for that task, the builders turn to designer Christina Salway; "the glorious guru of good-time design" as Pete puts it.
To pull the finished look together, Christina came to us for two seashell seagrass area rugs with a pale ash, narrow cotton border. You can see a close up of one of the rugs pictured below.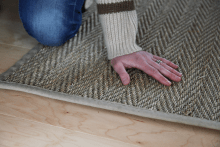 Part of the reason Christina went with the seashell color and pattern was to provide a contrast to the smooth, hardwood floors and match with Russ's industrial-chic design style. She then placed them underneath the treehouse's two seating areas to help distinguish the two areas of the space.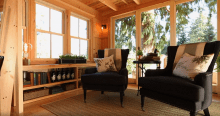 With the build finished and the design complete, it was time to show Russ and his wife, Kristi, their new rumpus room treehouse. And they couldn't have been more blown away.
"Beautiful," says a teary-eyed Kristi after the big reveal. "Oh my goodness, it's gorgeous. It's absolutely stunning."
Russ chimed in as well, saying, "I kinda wanted to hug Pete. I just — I didn't know what to do! I was just so excited looking at this thing of beauty. It's awesome."
See How It All Came Together
We already knew that a seagrass rug could help elevate any home, but now we know that includes treehouses as well. From the hot tub to the card table, this treehouse will be a fun one that Russ, Kristi, and their family can enjoy for years to come.
Watch the full episode online to see the full transformation, as well as Russ and Kristi's stunned reaction.

Sign Up and Save 10%
No, Thanks