Using a Custom Seagrass Rug to Enhance Your Floors with Sheila Irwin
Sometimes, the carpet has to go. Just ask Sheila Irwin. As a fashion stylist turned interior designer, Sheila knows what she does and doesn't like. And for years, she has hated her home's carpet. Well, 2017 was finally Sheila's year for turning her drab carpet into beautiful hardwood floors.
Installing New Hardwood Floors
It wasn't an easy decision to make the move to hardwood for Sheila and her family of five. It was an investment in their home that they weren't confident in at first.
"We had wall to wall carpet that I hated for forever, but I wasn't sure how long we'd be in the house or if we would be moving," Sheila explained.
But as a family, they decided to take the plunge and install new hardwood floors back in January. By February, Sheila had her dream hardwood floor. However, when her dog scattered across the wood planks she realized she gained something else as well: noise.
Beautiful, but Noisy
Determined to leave the new hardwood as the centerpiece for her living and dining rooms and dampen the footfalls of five people plus a dog, Sheila started looking for rugs.
"I didn't want another print to busy up the room, I wanted something simple and clean that would let the hardwood floor shine," Sheila said of her ideal rug.
And considering the unique layout of her dining and living room, Sheila knew she couldn't just go to Pottery Barn and get a standard sized rug. She needed a custom solution, leading her to our (virtual) doors.
A Custom Seagrass Rug
Once she found us, Sheila instantly set her heart on a one-of-a-kind natural seagrass rug. Knowing that the rug wouldn't detract from her new floors and the elegance they brought to her home, Sheila was beyond pleased with the result.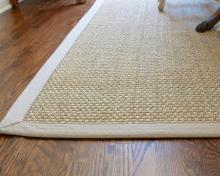 "Even with the rug, you can see the beauty of the floors," Sheila said. "The contrast of the wood and the seagrass is powerful and pairs really well together."
Plus, Sheila noted that the rug arrived in perfect quality and right on time. Something homeowners and designers alike can appreciate.
Thank you again, Sheila, for choosing a custom seagrass rug for your home. We agree and think the room turned out amazing. You have great taste and we hope to work with you again soon!
To see more of Sheila's incredible designs, check out her blog, Maison de Cinq, focused on making homes more beautiful inside and out.

Sign Up and Save 10%
No, Thanks