What Is the Color of the Year 2020? Hint: It's Pretty Cool
Pantone has done it again. In 2019, warm and whimsical took center stage with Living Coral. In 2018, the theme was vivacious and vibrant with Ultra Violet. But as we usher in a new decade, it's all about comfort and familiarity. That's why Classic Blue was chosen as the 2020 Color of the Year. It's a trusted, traditional deep indigo that evokes images of comfortable living spaces and the immense evening sky.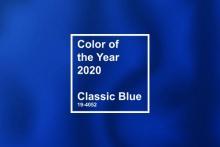 The dawn of a new decade comes with a lot of unknowns—part of the reason Classic Blue, which evokes resilience, reflection, and rest, was this year's top pick. It's like an old friend putting a hand on your shoulder or being wrapped in your favorite blanket. 
Here we take a closer look at why Classic Blue was chosen and the "restful" benefits it can bring to your home.
Why Classic Blue Is the 2020 Color of the Year
The Pantone Color Institute's methodology for choosing the Color of the Year is simultaneously simple and complex. They start by taking note of color trends in fashion, film, art, and culture. This information is then catalogued and studied over the course of nine months. Each visual trend they've selected is carefully compared and analyzed, whittling down the options to reach a final verdict. Their final selection is a color that both reflects the trends from throughout the year and sends a message for the future. 
So, why did Pantone choose Classic Blue for 2020? 
It's a dependable, foundational color. When describing their choice of Classic Blue, Pantone stated that it, "highlight[s] our desire for a dependable and stable foundation on which to build as we cross the threshold into a new era." 

It's a restful color that offers an impression of peace and tranquility. Classic Blue is very cool and gray in nature. This tone of blue is deep and peaceful.
Why You Should Add Classic Blue to Your Home
Classic Blue is more than just a color, it's a mood. It's both familiar and fresh. Traditional, yet unexpected. For those reasons alone, adding Classic Blue accents to your home is a great idea. But there are other reasons, too...
Blue has a positive psychological effect. Research shows that the color blue can make a positive impact on a person's well-being. Blue is calming and restful. In fact, rooms that feature hues of this cool color are more likely to be comfortable and relaxing. And Classic Blue is as its name suggests: a tried and true blue — the sort of shade you think about when someone mentions the color aloud. 

It won't go out of style. With the prestige of being selected as Pantone's Color of the Year, Classic Blue will find its way to the top of all the trends lists. You'll see it featured in film, home decor, and on the runway. But the thing is… Classic Blue is called classic for a reason. Just because it's having a trendy resurgence in 2020 doesn't lessen it's steadfast popularity. It's always been a well-loved color and it always will be. Making a choice to add it to your home's decor can be a positive style choice not just this year, but for years to come as well.
How Do I Get More Classic Blue in My Life?
Getting more Classic Blue in your life is easy! Because it's such a classic color, finding it in the wild won't be challenging. We'll show you how to add Classic Blue to your home.
If you're more interested in browsing than reading right now, that's okay too! Check out our complete collection of blue area rugs today.  Not quite ready to jump into a blue rug?!?  Accent a neutral area rug with a blue border.  

Sign Up and Save 10%
No, Thanks