Why It's Time to Bring Outdoor Sisal Rugs Inside
Image: The White Moose Inn, Courtesy of Akseizer Design Group
Indoor/outdoor polypropylene rugs aren't what they used to be. And that's a good thing, says Jeff Akseizer, principal of Akseizer Design Group (ADG), which is responsible for designing some of the most upscale hospitality, commercial and residential properties along the East Coast and across North America.
"For years you couldn't find indoor/outdoor sisal rugs that looked close to anything real, and you also couldn't find colors that were attractive," he recalls. "They used to come in terrible primary colors, then later they came in brown or black. But no one made a woven sisal that looked great."
Then he discovered what Sisal Rugs Direct offered.
"This product can look as expensive, as authentic, as luxurious, and as amazing as any rug you can find in a high-brand retail design center," he enthuses. "I've put this rug in show homes that are worth millions of dollars. Without a doubt everybody asks, 'Where is that great rug from? How much is that?' And when you tell them roughly the cost, their eyeballs pop out. So, from that perspective, indoor/outdoor rugs are a really nice homeowner tool. They give you a nice designer element without breaking the bank."
Not convinced that indoor/outdoor sisal rugs can look like the real thing? Consider the upscale White Moose Inn, located steps away from the world-renowned Inn at Little Washington. ADG created the interior design for the hotel, which guests rave about.  "We really enjoyed the modern aesthetic -- this is NOT a traditional B&B with frilly tablecloths and lace lampshades," proclaimed a TripAdvisor reviewer.
The Inn is proud of its contemporary, Scandinavian aesthetic created by ADG. An important component of that is indoor/outdoor sisal rugs that were laid wall-to-wall in the hotel's six guest rooms.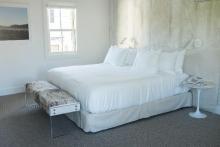 "One thing I always hear about sisal is, 'Oh, people aren't going to like how it feels on their feet'" says Jeff. "ADG has proven that wrong in many cases. This is actually a comfortable product on the foot. More so, people want their floor to feel clean and fresh, and when you walk around on shaggy carpets at boutique hotels, it doesn't feel that way."
In fact, Jeff notes that one of the most common guest inquiries at the White Moose Inn is "What's on the floor in the guest room?"
"Market research and market data and all that great information that we pay for is one thing, but the horse's mouth is another," says Jeff. "So I look at what guests respond to, and they respond positively to sisal."
Jeff consistently uses indoor/outdoor sisal rugs in his designs, and even his own home, because they maintain their beauty.
"One of the challenges we face is how to make a room look as good on day 10,000 as on day 1," says Jeff. "With typical mushy hotel carpets, a maid can pass over them with a vacuum a few times, or a wet towel is left on the floor, and they'll quickly show wear. In contrast, Sisal Rugs Direct indoor/outdoor rugs will look brilliant from the moment you install them to several years later."
This is why sisal indoor/outdoor rugs are Jeff's go-to floor covering choice in his own home, especially when he entertains.
"If someone spills red wine, it's no big deal," he explains, "I can just grab some paper towels, soak it up and move on with the evening. I'm not scrubbing some rare Alpaca-based wool rug worth $20,000. It takes the pressure off both guests and myself."
If you want no-fuss sisal rug beauty at a value, check out our selection of over 49 indoor/outdoor sisal rug types that come in a variety of shades and textures. You can even match them online to your floor. Plus, you can customize them with more than 8 binding materials in dozens of colors. Have a little fun and play with our online tool to create the perfect custom design.
Save

Sign Up and Save 10%
No, Thanks