Why We Love Sisal (And You Should, Too!)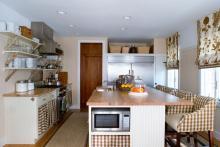 At Sisal Rugs Direct, we carry a wide selection of high-quality materials to choose from. When it comes to choosing indoor rugs, however, we often recommend sisal (or a sisal combination) to customers, as the natural fiber offers many benefits that home owners and renters would enjoy. Sisal rugs are durable, stylish, versatile, easy to maintain and very affordable. 
If you want to bring long-lasting beauty to your home without going over budget, then sisal is the perfect solution. The affordable fiber comes from the cactus plant, Agave sisalana, and is known for being resilient. It's even able to handle drought conditions where it is produced in Tanzania. You can place a sisal rug in high-traffic areas like the living room and won't have to worry about it wearing out too soon. 
Because they are made from natural fibers, sisal rugs are neutral in color and have a textured appearance. This makes them very versatile, allowing you to mix and match with different color schemes and interior styles. If you want to add a bold pattern or pop of color, you can easily layer the look with a smaller, decorative rug on top.  
The best part about sisal rugs? They are easy to maintain! Sisal rugs do not handle moisture well, so a dry-cleaning process is best. Simply vacuum regularly and, after a spill, spot clean using the Sisal Life Cleaner. Your rug will stay looking as good as new for years. 

Sign Up and Save 10%
No, Thanks