The 2022 Pantone Color of the Year
Sometimes colors speak louder than words. The 2022 Pantone Color of the Year is no exception. Replacing the yellow and gray duo of 2021, Pantone has declared Very Peri, a delightful shade of periwinkle, the color of the times. Said to have "a carefree confidence and a daring curiosity," this uplifting hue encourages expression and communication.
While Very Peri feels familiar, the 2022 Pantone Color of the Year is one of a kind. For the first time, a brand new color was created to express the shade of the current moment. Red violet combined with blue highlights mirrors the fusion of the physical and digital world.
It's a pretty inspiring color if we do say so ourselves! Very Peri brings a philosophy of reimagining the life that is in front of us, even in our homes. In that same vein, use this as an opportunity to make bold and unexpected rug choices. We've got a few ideas of our own to share with you.
Play with Patterns
The days of only using plain rugs are gone. More than ever, interior designers and homeowners alike are using textures and patterns. Diamond, arrow, or Moroccan trellis—there are lots of designs that can work easily in any home.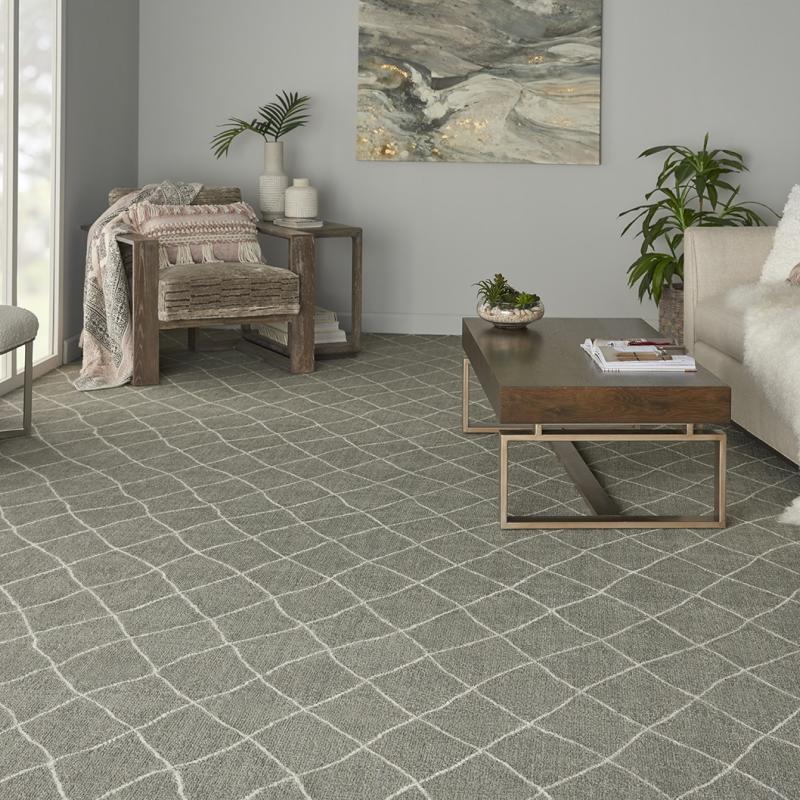 Try patterned rugs like the Moroccan Trellis Wool Rug in Charcoal.
Explore Color
If there's anything the 2022 Pantone Color of the Year should make you want to do, it's having fun with different hues. Experiment with colors you haven't tried before. For example, if you've been all about jewel tones, think about incorporating rugs that have more earth tones.
Another way to play with color is with a rug border. Natural fiber rugs, in particular, go fabulously with a cotton or leather rug border. Even if your rug color is neutral, a rug border  that matches a room's color palette is an inventive way to pull everything together.
Make Art
Who says that rugs are only meant to be on the floor? Many times, their pattern, colors, and textures are works of art in and of themselves. Flip the script and let them adorn your walls as decoration. Hang them yourself, or have a professional come in to make your new display shine!
Set the Table
Table clothes are so 2021. Why not rethink a runner rug and use it as table decoration? Many rugs are already made to be stain and water-resistant. This clever way to style a rug can stand the test of dinner parties and occasional spilled glass while still being stylish.
The Athens Stain Resistant Sisal Rug in Beige with a Marina border.
Bolster the Bedroom
A rug can keep your feet warm both when you get out of bed and when you get in. Using it as a throw blanket is a unique way to apply it decoratively, especially if you have a rug made of a lighter weave.
Rugs can also serve as a new take on a headboard. Simply apply the same tactics you would if you were hanging as art, but mount it behind your bed.
Cover Up
While electronics like stereos and TVs are essential to a home, they aren't always nice to look at. Let a rug come to your rescue! Drape it over any appliance when company calls or when you aren't using them. They'll stay hidden and look fabulous, snug in the rug.
Get Creative
There are so many ways to reinvent how you use rugs around the house. Let your imagination run wild, starting with our wide selection of patterned rugs.  

Sign Up and Save 10%
No, Thanks