The Essential Area Rug Fiber Guide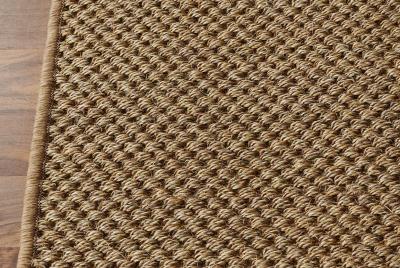 Sisal Rugs
Sisal is a durable fiber from the leaves of the Agave Sisalana plant native to Brazil, Mexico, and East Africa. Most of the sisal we use is superior grade grown on plantations in Tanzania, East Africa. Each leaf contains about 1,000 fibers that are extracted, washed, sun dried, brushed, graded, and bailed. The remaining plant is used to produce electricity, which supports Tanzania's economy and helps energize rural areas and to feed farm animals.
Sisal is used in many hard-wearing products, including twines for marine and bailing, ropes, plaster reinforcements and dartboards. The same qualities of strength that make the fiber preferred in these products make it ideal for floor covering. Sisal can be dyed and comes in a range of earthy hues.
Features: Extremely durable and versatile. 
Green Properties: Natural Fiber / Renewable / Biodegradable / Sound Absorbing/  Flame Resistant / Anti-Static / Naturally Insulating
Shop Sisal Rugs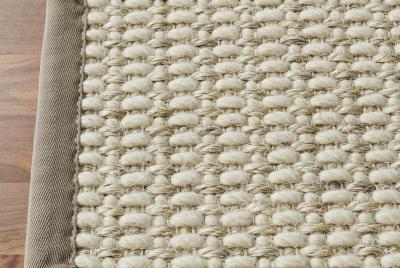 Wool Sisal Rugs
Wool sisal rugs blend two of the most durable natural fibers to make long lasting rugs that are softer underfoot. The amount of wool and sisal in the rugs varies from 40-75% depending on the style. 
We use the finest Wool fibers which are mostly sourced from New Zealand.  The more wool in the rug, the softer the feel.
Features: The look of sisal with the soft feel of wool.
Green Properties: Renewable / Biodegradable / Naturally Flame Retardant / Naturally Insulating / Humidifying
Shop Wool Sisal Rugs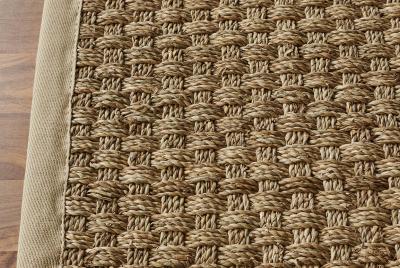 Seagrass Rugs
Seagrass is made from the Sedge family of plants, which grow in the low-lying areas of the Asia-Pacific region. The perennial grasses are harvested from paddy fields that are flooded with seawater during the growing cycle. When the grass is mature, the fields are drained, and the plants are cut and bundled. Workers twist (or ply) the grass entirely by hand and send it to be woven into carpets.
Seagrass is woven into sought-after products such as baskets, placemats, bowls, furniture, and flooring. The yarn, which is strong, durable, and non-porous has a naturally smooth texture, subtle sheen and warm hue that makes it a popular choice for use in carpets and rugs.  Due to the naturally stain resistant shell to the seagrass fiber it cannot be dyed and is only available in its natural tones.
Features: Seagrass' non-porous fibers make it one of our most stain-resistant fibers.
Green Properties: Naturally Renewable & Stain Resistant / Sustainably Harvested / Strong / Sustainably Harvested / Anti-Static
Shop Seagrass Rugs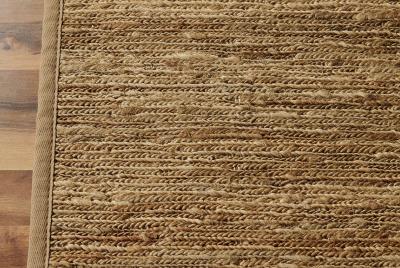 Hemp Rugs
Hemp is a cultivated mountain grass fiber. This durable, non-porous plant has a smooth texture and a subtle sheen that helps repel liquids. The Hemp is sustainably harvested in the higher altitude slopes of the Pacific Rim. Once cut and dried, the fiber is separated from the core, while the outer skin of the stalk is retained, resulting in a stronger, and more resistant yarn.
Hemp cultivation improves the condition of the grounds, making it an excellent crop to use in rotation. The long-lasting fiber is used to make paper, fabrics, and rope, in addition to beautiful floor coverings. The natural Hemp is woven in a distinct array of textures and patterns that accents its warm, rich hues.
Features: Hemp has a soft feel underfoot and a beautifully textured look similar to jute.
Green Properties: Strong Fiber / Renewable / Biodegradable / Repels Liquids and Stains / Naturally Insulating / Mold and Mildew Resistant
Shop Hemp Rugs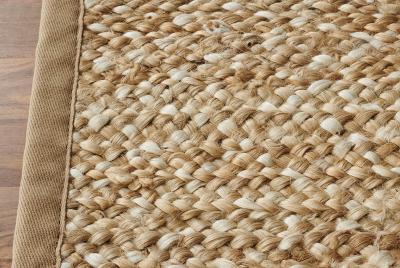 Jute Rugs
Jute is a long, soft, shiny vegetable fiber that can be spun into coarse, strong threads. The finest jute comes from the Bengal Delta Plain, mostly in Bangladesh and India. The stalks of the plant are harvested, bundled, and soaked in water for about 20 days to soften the tissues and permit the fibers to be separated. The fibers are then stripped from the stalks, washed, dried, and baled.
Jute is sustainably grown and biodegradable.  It is used to make burlap, backing for carpet, curtains, chair coverings and floor coverings.
Features: Jute rugs are thick and textured and soft underfoot.
Green Properties: Renewable / Biodegradable / Soft Underfoot
Shop Jute Rugs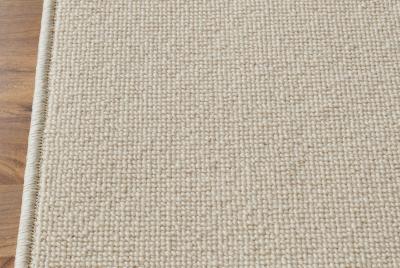 Wool Rugs
Wool shorn from sheep is completely natural and environmentally sound as it is produced from a totally renewable source – grass – shorn from sheep every 9-12 months. Wool fiber has more crush resistance than any other fiber.
Wool rugs have a natural, soft, and luxurious feel and a long-lasting beauty for years to come.  Our wool is sourced mostly from the sheep of New Zealand. 
Features:  Soft underfoot, long lasting.
Green Properties: Renewable / Biodegradable / Naturally Flame Retardant / Naturally insulating / Repels Liquids and Stains / Humidifying
Shop Wool Rugs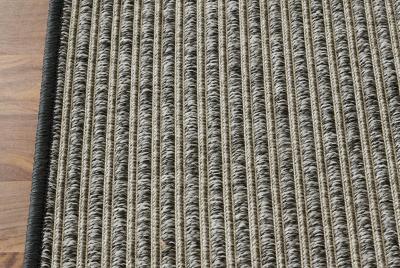 Outdoor Sisal (Polypropylene)
Outdoor Sisal Polypropylene rugs look and feel like sisal but can be used outdoors and are ideal for high traffic indoors. Made from high quality 100%, non-toxic synthetic fibers, our polypropylene rugs are strong (yet soft!) and will not fade or mildew when exposed to the elements.
Available in a variety of patterns, colors and textures, outdoor sisal polypropylene rugs ensure your patio, kitchen or other areas of your home have a beautiful rug to help complete the space.
Features: Easy to clean, great indoors for kitchens, sunrooms, family rooms, and for kids and pets.
Shop Outdoor Sisal Rugs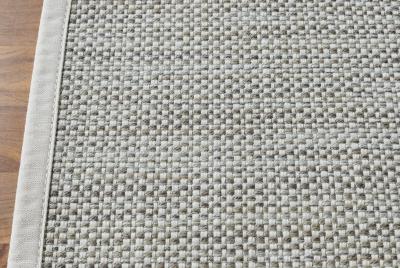 Polysilk (Outdoor Wool)
Mimic the look and feel of a wool rug that is safe for outdoor use.  Polysilk is a premium quality polyester fiber that looks and feels like silk. Our Polysilk rugs feel like a soft wool or silk rug. Polysilk fibers repel moisture making stains and spills easily removed. They are UV stabilized and mold and mildew resistant.
These soft, Polysilk polyester rugs come in a variety of colors, weaves and patterns and are recommended for use in children's rooms as well as any room indoors or outdoors. 
Features: Soft and can be used outdoors.
Shop Polysilk Rugs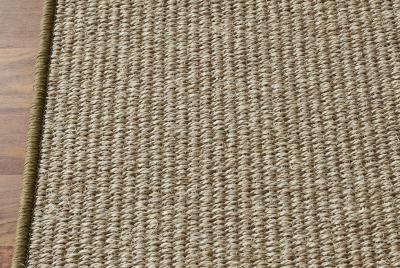 Stain Resistant Sisal
Sisal is a natural plant material extracted from the leaves of the Agave Sisalana plant. Sisal rugs and carpet are renowned for their texture and earthy feel that blend beautifully with any design style. Stain Resistant Sisal is a game-changer in terms of liquid and stain resistance.
Our state-of-the-art new production process solution treats each strand of sisal fiber with a stain repellent and fire retardant before being woven into sisal carpet. This gives thorough coverage and resistance that no surface application can provide.
Stain Resistant Sisal is strong enough for the hospitality and commercial use and has a Class 1 fire rating.
Features: Extremely durable and stain resistant
Green Properties: Strong Fiber / Renewable / Biodegradable / Repels Liquids and Stains / Naturally Insulating
Shop Stain Resisant Sisal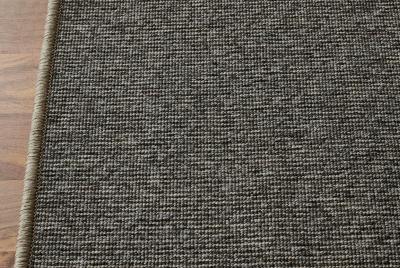 Nylon Rugs
Our nylon rugs are contract grade solution dyed nylon made for commercial and hospitality settings.  The solution dying process saturates the yarn with color creating a superior and lasting colorfastness. These Class 1 rugs and carpet are highly resilient and maintain their original appearance year after year.
Features: Exceptionally durable, resilient with good texture retention for high traffic areas, retail spaces, hotel rooms and lobbies.
Shop Nylon Rugs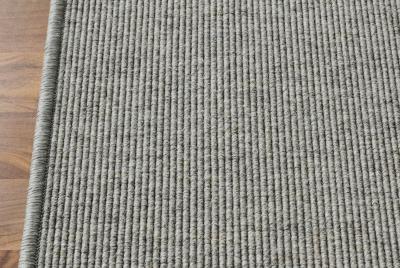 Commercial Wool Rugs
Wool is an exceptionally durable natural fiber that has been used for flooring for centuries. With a blend of 70% Sheep Wool and 30% Goat Hair, our commercial wool rugs and carpet are Class 1 rated for use in retail spaces, high traffic areas and lobbies.
Available in a variety of colors and weaves that can fit most design palettes.  Can be used in residential homes where you want extra durability out of your wool rug.
Features: Naturally flame resistant and durable
Shop Commercial Wool
Thank you for reading our essential guide to area rug fibers.  We understand that purchasing a rug can be a big deal and we are here to help.  If you have any questions regarding specific fibers please give us a call or send a message. 

Sign Up and Save 10%
No, Thanks