Natural Area Rugs - Find the Perfect Rug for Your Home
Find the Perfect Natural Fiber Area Rug!
Natural area rugs — made from 100% natural and sustainable materials — are an ideal match for any interior design style. At Sisal Rugs Direct, we offer a variety of handcrafted natural fiber area rugs and floor coverings to choose from, including sisal rugs, jute rugs, hemp rugs, seagrass rugs, and wool rugs. Each natural rug comes in both standard and custom sizes, as well as a variety of colors, giving you plenty of beautiful options for your home.
But plenty of options bring hard decisions. If you're wondering what kind of natural fiber area rug is right for your space, we're here to help.
Want the advice of a designer to help you decide? Our in-house interior designer can help you choose the right fit for your home, or you can browse our selection below to find your perfect match.
The Best Natural Area Rugs for High Traffic Areas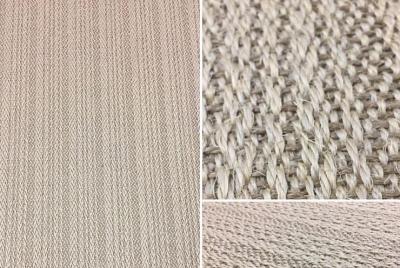 Sisal Area Rugs
Sisal fibers are stiff and strong, and when woven into a sisal area rug the end result is a natural rug that is very durable and can withstand plenty of foot traffic. Depending on the weave and pile, some sisal area rugs are more durable and stain-resistant than others.
For example, our Milano Sisal is our most stain and water-resistant sisal area rug. Before being woven into the rug, each fiber is treated for stains, creating a natural rug that's both strong and stylish. In addition to Milano Sisal, any sisal area rug that has a thin pile is also a great option for high-traffic areas like hallways, entryways, or even kitchens. In fact, sisal area rugs are often recommended for use in hospitality spaces like restaurants, bars, lobbies, and hotel guest rooms because they can take a beating without losing their integrity.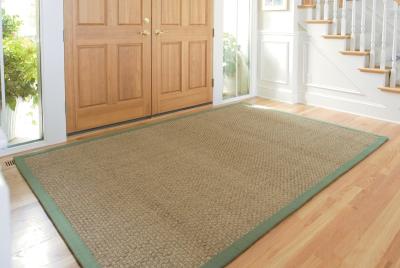 Seagrass Area Rugs
Seagrass area rugs are known for their long-lasting durability. While their reed-like material, these rugs are one of the most stain-resistant natural area rugs you can find. Given their durable nature, many homeowners place seagrass rugs in their front entryway or in other high-traffic areas in their homes. Their undyed, natural tones give them a unique look and are a great match for any interior design style.
The Best Natural Area Rugs for Medium Traffic Areas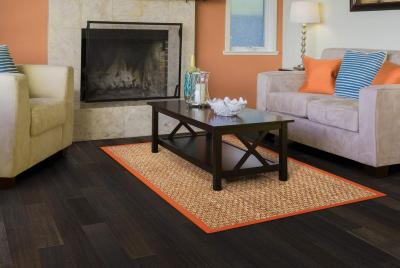 Jute Area Rugs
In contrast to sisal fibers, jute is much softer and therefore not as durable. That being said, jute is still a strong fiber and was once the go-to material for ropes on naval ships. But when it comes to your home's floors, natural jute area rugs are best placed in areas with light traffic where your bare feet can enjoy the soft weave of the rug. Bedrooms or family rooms are a great fit, for example. Adding a colorful binding is a great way to make a jute area rug pop and add to the overall look and feel of the room.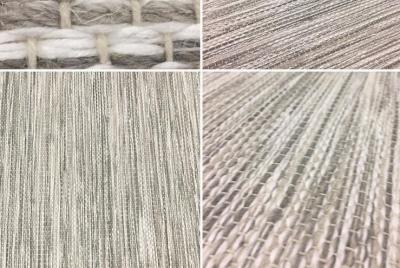 100% Wool Area Rugs
Wool area rugs are extremely soft and comfortable, making them the perfect area rug for bedrooms and other low-traffic areas in your home. While they're not as durable as other natural-fiber options, wool fibers still have special properties that help them last for years to come. For example, wool area rugs still retain a natural lanolin coating that wicks away moisture and protects the rug's fibers from stains or messes.
Our wool area rugs are made from 100% natural wool fibers and harvested from the sheep to ensure that they don't suffer from heat exhaustion during the summer. They're sustainable and eco-friendly options for your home, and each rug is handwoven and available in custom shapes and sizes to perfectly fit your needs.
What Are the Benefits Natural Area Rugs?
Sustainability
Each natural area rug we offer is made from 100% natural fibers that are sustainably and ethically sourced. These fibers are renewable and biodegradable as well, meaning you can feel good about using these environmentally friendly floor coverings in your home versus that of a synthetic, man-made fiber area rug. In addition to being food for the environment, harvesting these fibers helps support the local economy in areas like Tanzania, the Pacific Rim, Bangladesh, and more.
Learn more about how these fibers are harvested by checking out our sustainability practices.
Versatility
With so many textures, patterns, fibers, and colors to choose from, natural fiber area rugs are diverse in look and feel. Regardless of the room or design style you're trying to find a rug for, there's a perfect natural area rug that will fit both your functional and design needs. Think size might be an issue? Think again. All of our natural area rugs come in both standard and custom sizes. We can even make our rugs into custom shapes to ensure that the rug you purchase is the perfect fit for your space. Our large selection of neutral to colorful bindings make it easy to blend the rug with your current design style, or add a fun new pop of color to any room.
Looking for Interior Design Inspiration for Your Home?
At Sisal Rugs Direct, we work with some incredible and inspiring interior designers to perfect the look of their home decor. If you're looking for inspiration, or just want to see some examples of how our natural area rugs look in a home setting, take a look at this blog post!
Each natural area rug collection features its own host of benefits to your home's aesthetic style. And, don't forget – natural fiber rug runners make an excellent – and safe – addition to stair treads.
If you'd like help choosing the right rug for your home, our in-house designer can help make the process seamless! Simply fill out your style profile with information about your room, decor, and unique needs and samples will be out the door and in your home in a matter of days! When it comes to your home decor, why not try before you buy?

Sign Up and Save 10%
No, Thanks