Join Now!
Fill out the form to apply and start saving. We'll reach out via email and let you know once you've been approved.  Most applications approved within 24 hours.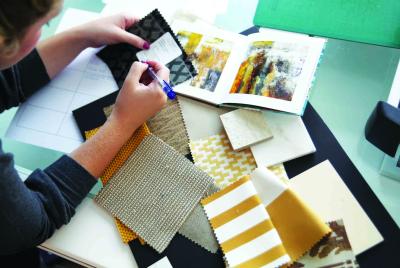 Save on High-Quality Area Rugs
We invite all qualified interior design professionals to join our Trade Discount Program. As a member, you will enjoy exclusive trade pricing and services. 
Join other expert interior designers, architects, resort and property management companies, and trade show exhibitors who have trusted us to supply them with premier natural fiber area rugs. Whether you're designing a family residence or business location, our extensive natural fiber and indoor/outdoor area rug collections will help you create the ideal environments that appeal to your clients' individual tastes and budgets.
Members of our Designer Discount Program have access to the most extensive collection of natural sisal, seagrass, hemp, jute, wool sisal, wool, and outdoor-rated polypropylene area rugs at special pricing. 
Trade Program Benefits

Exclusive Pricing

No Minimum Purchase

Personalized Service

Tax Exemption
Interior Designer Trade Discount
In over 20 years of business we have worked with countless national and international business on their projects.  Whether hospitality, resort and property management groups, home stagers, and merchandising professionals we provide the finest area rugs and exceptional customer service. Our carpeting and area rugs have been used by trade show organizers and participants to make eye catching displays. We invite all qualified professionals to join the Sisal Rugs Direct Designer Trade Discount Program.
Custom rugs are our specialty and our prices and workmanship cannot be matched. We can easily produce large quantities of area rugs to meet your installation specifications and deadlines.
Choose the category below that best describes your business and fill out the form to provide us more information about your project. You can also Contact Us.  We look forward to working with your company!
See How Other Designers Have Used Sisal Rugs
Designer Trade Discount Services
Below are a number of the interior designer trade discount services that we offer.  Click on each to find out more information on how we can help your interior design project.  Sign up today or send us a message.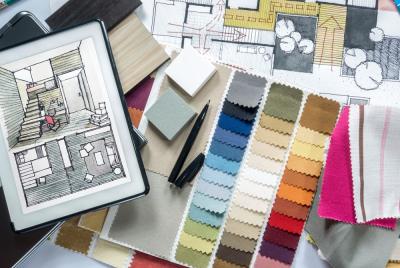 Your New Design Resource
Every member of Sisal Rugs Direct's Trade Discount Program will receive an exclusive discount on our entire site, with no minimum purchase. And as always, every order includes free shipping and free mitered corners. We are also available for consultation via phone or email to ensure that our area rugs or carpeting complement your interior design and meet your specifications. You can order a complete sample set online HERE. 
Why You Should Join Our Interior Designer Discount Program
Simply put, interior designers like yourself should join our discount program for a variety of reasons, but the most important reason is that our program saves them money. 
As you know, interior design projects can be costly as it involves purchasing new furniture, decor, and potentially even remodeling the space with new construction, paint, flooring, cabinets, and more. Our discount program affords interior designers with an opportunity to save money while still providing their clients with incredible design and a beautiful area rug. 
In addition to cost savings, our designer discount program also allows interior designers to enjoy exclusive services like free mitered corners and consultations. For example, if you aren't sure which color, pattern, or binding is best for your design, our in-house designers will work closely with you to ensure the rug you order enhances the space.
How to Choose the Right Rug for Your Interior Design Project
Here at Sisal Rugs Direct, we offer an extensive collection of natural fiber area rugs, including sisal, jute, hemp, seagrass, wool, wool sisal, and outdoor-rated polypropylene. But with such a large collection, it can be hard to find the right rug for your design project. Here are some tips that can help you make your decision:
1. Request Free Rug Samples
As a member of our designer discount program, you can request samples of any of our area rugs. Not only will this help aid you in your purchasing decision, but you can also bring these free samples to your clients to give them an idea of your design aesthetic and plans.
2. Don't Let Size Limit Your Options
Other rug vendors sell area rugs in specific dimensions or sizes. But not us. Our in-house rug production facility allows us to make all of our rugs in any size or shape. In fact, custom-sized or shaped area rugs are our specialty. You can even send us a drawing or diagram of the area rug you need with the proper dimensions and we will make an area rug to those exact specifications.
3. Be Mindful of Durability
Some areas of homes or commercial spaces see more foot traffic or spills than others. Keep this in mind when browsing our natural fiber area rugs as some can handle heavy traffic and stains, whereas others you'll want to save for less-used parts of the space. For example, our outdoor-rated, sisal-look-alike polypropylene area rugs can handle any amount of moisture or messes. Whereas sisal area rugs need to be removed from heavy moisture areas. 
For more tips on finding the right rug, check out our guide on choosing the perfect area rug.
Start Saving By Signing Up for Our Designer Discount Program
Incredible discounts. Free shipping. Mitered corners. Consultations. There are a lot of reasons why you should sign up for our interior designer discount program. By joining our trade program you'll improve your bottom line without sacrificing client satisfaction or changing your design.
Fill out the form above to apply now!
Why You Need to Apply
We want to have a relationship with every designer that joins our trade program. This allows us to provide you with unmatched quality and service. As such, we require that each designer in our program submit an application. 
By submitting an application, we are able to learn a little bit more about your interior design business, the types of projects you may need us for, and how we can best meet your needs and expectations.

Sign Up and Save 10%
No, Thanks