7 Hottest 2018 Interior Design Trends From Home Styling Experts
As we swiftly approach the end of 2017, it's often a time for reflection and resolution making. Well, if one of your resolutions is to add a new dynamic design or inspiration to your home decor, we have the helpful insight to help you keep that resolution.
Give your home a fresh makeover fit for 2018 with the hottest design trends from interior designers, industry experts, and more.
1. Velvet
"Velvet is a trend that started getting really big last year in fashion, and now it seems to be hopping over to design," says Sheila Irwin, interior designer and founder of Maison de Cinq, in her latest design trends blog post.
Serving as a luxe, timeless fabric in your home, velvet makes a great statement piece in nearly any room. Perfect for accent pillows, blankets, headboards, couches, and more, velvet adds warmth and comfort to your home with surprising versatility.
The trick to adding velvet décor and furniture to your home is to use it sparingly. Velvet is the perfect pop of color and texture, but if it's used too much throughout the room it loses its luster. While velvet is making its appearance in more furniture than ever, Sheila recommends using velvet pillows and throw blankets for a more affordable option.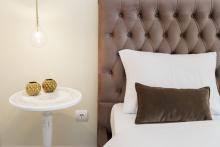 2. Iridescent Accents
As we're looking ahead to the future, it's very fitting that futuristic iridescent accents would make our list. Lizzie Grover, Creative Director of Hutch, an interior design tool, predicts iridescent accents will appear in backsplashes, end tables, and other decorative pieces. This includes alarm clocks, cabinet hardware, light fixtures, and more.
To get started with iridescents in your home, start small. Given the natural shine, iridescents demand a lot of attention from the eye. Make sure whatever iridescent piece you add to your home, whether it's wallpaper, tile, or a pillow, doesn't immediately overpower the room.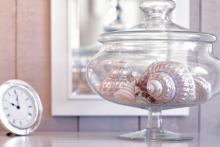 3. Greenery
Plants are a tried-and-true design trend, but Nancy Fire, founder of Design Works International and Design Director for HGTV Home, predicts that spicing up your space with a unique plant wall or planter is going to be the new trend.
"Get creative with planters by using both hanging and floor models or painting your pots in patterns that complement your interiors," Nancy told POPSUGAR. If you have a lot of light in your home, cacti and succulents are low maintenance plants that can serve as a fresh and natural centerpiece in your space all year long.
The greenery trend doesn't stop and start with plants, though. You can also get in on the trend by adding other natural elements like a sisal, jute, or seagrass rug. Natural fiber rugs are made from 100% renewable and organic material making them friendly for the earth and your home. In addition, you can add decorative elements that represent greenery like a wooden bowl, or leaf-inspired serving pieces.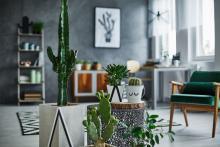 4. Geometric Patterns
Interior designer Larina Kase predicts geometric patterns will be used more throughout the home. Easily added through wallpaper, backsplashes, accent pillows, and household ornaments, geometrics shapes are an approachable design trend that can be incorporated into nearly any design aesthetic.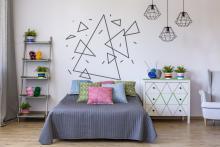 5. Typography
Michelle Gage, an interior designer from Homepolish, thinks messaging will seep further into our homes. We've already seen typography in the home through fun sayings on signs and embroidered pillows, but Michelle thinks this will only ramp up in 2018.
"It'll become increasingly popular, given the way we all communicate on social media. It will remain more of a complement to a room's story and live on in smaller finishing touches like pillows and art," Michelle recently said to realtor.com.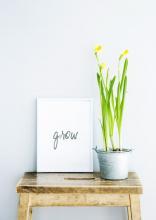 6. Metallics
According to interior designer Annie Elliott, one of the best ways to lighten up a room is to add metallic colors and accessories. On realtor.com, she says "Most rooms need a bit of sparkle, and a pillow laced with gold thread can be just the way to achieve it."
If you want to get extra crafty, you can also purchase metallic paint to cover art, furniture, or fabrics in your home. It doesn't have to be a cool silver accent, either. Copper, bronze, and gold are metallic accents that add warmth and shine into any space.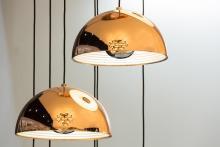 7. Intense Colors
Every year, the most anticipated 2018 trend is Pantone Color Institute's Color of the Year. And while Pantone hasn't quite made their 2018 announcement, their Executive Director, Leatrice Eiseman, isn't shy about predicting hot colors for 2018. In fact, Leatrice recently told realtor.com that 2018 will be a year of intense, bright colors that pay homage to technology through bright teals, purples, fuchsias, and more. These colors will not only be seen in our home interiors, but also in our clothes and accessories.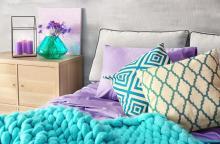 Looking for more design inspiration?
Stay on top of the latest interior design by checking out fall's top flooring trends including cork, bamboo, and more.

Sign Up and Save 10%
No, Thanks