8 Must-See DIY Tutorials for Home Decor
Why do people opt to pick up a hot glue gun, paintbrush, hammer, or any other tool of the DIY trade? To stretch their budget? To inject character into their decor? Or maybe it's simply the joy in creation and watching their vision come to life?
Whatever the reason, there is no shortage of DIY tutorials to serve as inspiration. In fact, there are so many great ideas that searching for your next project can be like falling down a bottomless rabbit hole. Pinterest, we're looking at you. 
To help, we've cultivated a list of DIY home decor projects from some of our favorite DIY bloggers. Whether you're focused on improving your home's appearance or creating something new, there's bound to be something for you on the list. 
1. Painting Your Exterior With Room for Tuesday
Are you considering ways to brighten up your home's exterior? If so, check out this how-to guide for painting your brick. Not only does it include great photos, but it also answers our most pressing questions about the process, such as:
The best tools to use

How to get into the mortar grooves

Testing if your brick is paintable 

The role of masonry conditioner

Tips so you don't ruin your bricks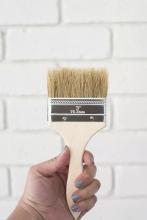 Photo Credit: Room for Tuesday
2. Building a Bathtub Tray With Deeply Southern Home
Take a relaxing bath to the next level with this DIY bathtub tray made with reclaimed wood. It has room to hold an iPad, a beverage—adult or otherwise—and plenty more. The post highlights the materials and tools used by Leslie, the creative force behind the blog, along with the step-by-step directions.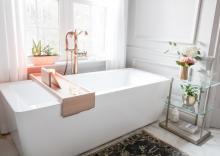 Photo Credit: Deeply Southern Home
3. Reupholstering With The Budget Decorator
Think that reupholstering is something better left for the professionals? After reading this post from The Budget Decorator on how to reupholster a chair, you may change your mind. Your grandpa's armchair that you thought destined for the dumpster? Totally doable. 
It doesn't matter if your eyesore is from IKEA or mid-century modern, this post features a roundup of several reupholstering projects that can help you create a signature piece that your guests can't take their eyes off of—in a good way. 
4. Painting Furniture With Emily Henderson and MegMade
When painting furniture, do you struggle to get the results you want? When you aim for chic modern, do you end up with shabby chic? Well, guess what? 
There is a right way to paint furniture and most of us are skipping steps. In this post from LA-based style and design company Emily Henderson, Meg Pierce, the owner of MegMade, transforms an outdated wooden dresser into a dark blue beauty with no streaks in sight. 
Meg also shares a list of supplies to have on hand, so you do need to abandon all progress when the going gets rough. One of her go-to tools? Patience. She is also a big fan of chalk paint. One of her top tips for a brushstroke-less finish is to add 10% water to the paint and put it in a blender on low speed to break up chalk buildup. Check out the post for her other tips and the gorgeous photos. You'll be amazed at what's possible.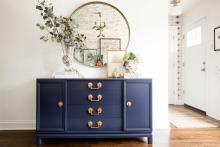 Photo Credit: Jenny Grimm via Emily Henderson
5. Creating Textural Containers With Centsational Style
We couldn't be more jazzed about these stitched cotton cord containers from blogger Kate Riley. They are both simple and stunning. Plus the design can easily be customized to fit your decor just by swapping in different sash cord and accent thread. All we can say is that we're happy that inspiration struck as Kate was walking down the rope aisle at Lowes!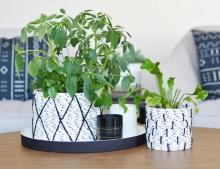 Photo Credit: Centsational Style
6. Baby-Proofing With Chezerbey
Like many things associated with baby-proofing, mass-produced baby gates don't have the most glamorous look to them. Most parents assume they have to make design compromises until their babies have the ability to successfully navigate stairs. 
Not Lauren and Kyle Zerbey—the architect duo behind Chezerbey. This post covers how they modified a custom plywood gate to keep their baby safe while maintaining their house's design aesthetic.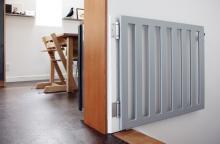 Photo Credit: Chezerbey
7. Layering Area Rugs With A Cup of Jo
For writer and style expert, David Coggins, rugs are meant to be layered. His urban apartment features overlapping rugs—finds from eBay and estate sales. His theory is, "If you have just one, it should be good because it's going to draw attention, but if you have ... a floor with lots of rugs, they don't have to be fancy."
As far as placement, David has a zen philosophy for achieving the optimal overlap. "You know when you get it right," he said.
If that's a little too vague for you, here are tips for rug layering to help guarantee your success.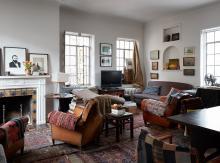 Photo Credit: Stephen Kempt Johnson for A Cup of Jo
8. Crafting Curtains With Decor8
Here is a simple idea that adds a lot of character: Transforming tea towels into curtain panels. By stitching together a variety of tea towels, you can create a unique look. The post also offers suggestions for additional ways to use your tea towels. 
Keep Creating 
Hopefully, this list of projects from some of our favorite DIY bloggers provides the inspiration—and skills—to take your home decor to the next level. These designers are always posting new tutorials. So, check back often. 
Want even more design tips? Check out this post on using Pinterest to spruce up your home's interior design. 

Sign Up and Save 10%
No, Thanks