8 Neutral Color Rug Ideas for Your Living Room
One of the big rug trends for fall 2022 is neutral colors. The rug aesthetics of bright colors and busy patterns of a few years ago are being traded for a more subtle palette of light browns and light grays. 
These neutral-color rugs don't have to blend into the background, however. The idea with this trend is to bring a sense of harmony to the entire room's decor, and a neutral color rug is the ideal base for achieving that balance. 
Here are 8 ideas for styling neutral color rugs for your living room that will enhance your decor without overpowering it. 
1. Rich Earth Tones
Neutral doesn't need to mean dull. For example, in a room with an exposed brick wall, a muted or dull rug runs the risk of disappearing into the background. When the room itself has bold features and textures, the approach for adding a neutral color rug is to echo the more dominant colors. In this case, the darker khaki color of the sisal rug acts as an extension of the brick wall's brown undertones. 
2. Bright and Natural 
Rugs in lighter neutral colors are a great choice for balancing out dark features in a room. A room with a black couch paired with a deep brown coffee table may start to feel smaller and more cramped than it actually is. Placing a lighter neutral color rug made of jute will help the darker and more saturated elements in the room feel less overbearing. 
3. Silver Chic
Whether you're after a space age look or chasing that perfect minimalist interior design style, a gray palette that skews lighter is a timeless way to get a clean, intentional look. If your living room has hardwood floors, bringing in a silver rug is an effective way to tone down the brown without needing to invest in new flooring materials. Just remember to keep the rug on the lighter side of gray, especially if the room you're styling is on the small side, since a dark gray rug runs the risk of making the room feel smaller.   
4. Lightly Textured 
One way to add visual interest to a neutral color rug without making it the center of attention is to explore different textures. A rug with a bit more texture can break up the monotony in a room that is otherwise filled with smooth surfaces. A slightly textured rug can also be an effective and unobtrusive way to carry the texture of stucco walls to the rest of the room. 
5. Beachy Ambiance 
For a beach house living room vibe, consider a Hemp Grass rug. These rugs are made from natural hemp grass fibers, so they are natural, sustainable, and extremely durable. Even better, because they are woven from hemp grass fibers, their neutral color is built in and mimics the color of the beach—without needing to bring extra sand into your home. 
7. Neutral color rug, bright color border
The only rule when deciding how to style your neutral color rug is this: do what you like! A neutral color rug, like this Santiago Sisal rug in Beachwood, balances the stark white of the room by adding an element of muted tan. To tie the rug into the rest of the room, however, the suggested border color (the color that most closely matches the rug itself) has been skipped in favor of a Slate Blue border.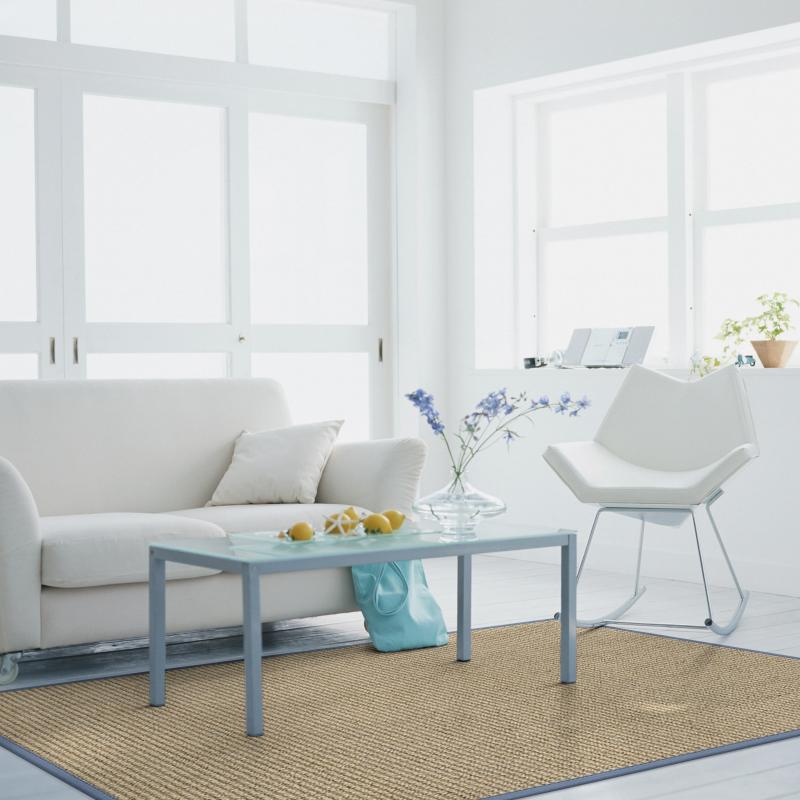 8. Golden Sun 
When a room is filled with rich, saturated colors, the best neutral color for a rug should also have more color than the typical neutral rug. Keeping in mind that the job of a neutral rug is to elevate the decor without overshadowing it, a sunshiny orange rug is right at home with rust colored walls and dark brown furniture. In this living room, the brightness of the rug, while still being neutral within the context of the room, allows the darker and more saturated colors to shine.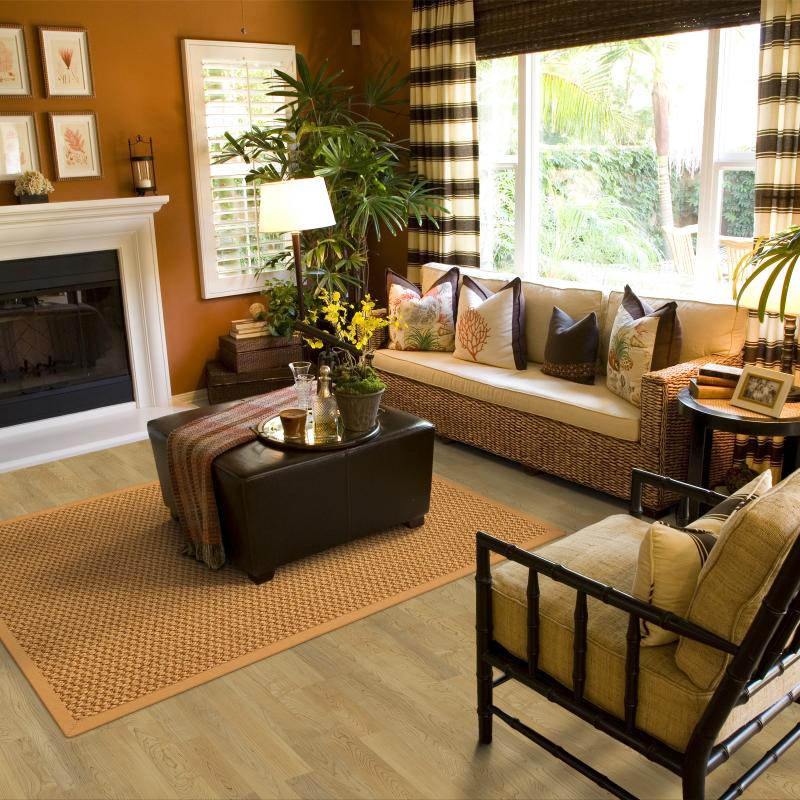 Elevate Your Living Room with a Neutral Color Rug
There are lots of ways to incorporate a neutral color rug into your living room. Whether you want to enhance elements of your current decor or you want to redecorate in a totally new style, a neutral color rug is an ideal base for your living room's aesthetic. All of our rugs are custom made, so you can get the exact size, shape, and color that will elevate your living room's look.  

Sign Up and Save 10%
No, Thanks