Apartment Interior Design: 5 Little Things You Can Do With Big Impact
The average studio apartment size in the U.S. is just 504 square feet. And that's 18% smaller than the average studio apartment size back in 2006. Apartments are getting smaller and smaller (decreasing 8% in size overall in the last decade), leaving limited space for renters and apartment dwellers to decorate and make their apartment feel like a home. 
In addition to limited space, though, there's also your lease and roommates to consider. Your landlord likely won't approve any construction or changes to the space that could impact future tenants. And your roommates (should you have any) might have differing tastes from your own. 
So, what are you left to do? How can you design your apartment without breaking the bank or your lease agreement? 
In the past, we've helped some amazing interior designers design apartments for clients and themselves. A great example full of interior design inspiration, is the story of how interior designer, Alex Kalita, renovated her Brooklyn studio apartment with some paint, an area rug, new light fixtures, and multi-purpose furniture. 
If you're looking for even more great apartment design ideas, here are our favorite interior design tricks that can make a big difference in a small space.
1. Mirrors
Apartments are small and space to redecorate is limited. Luckily, there is a neat trick you can use to make your apartment space feel much larger than it actually is. And that trick involves mirrors. 
By hanging or placing mirrors around your apartment, you're creating an optical illusion that extends the room. As reflections of what appears before them, mirrors are able to make walls disappear, giving you and your guests the illusion that the room is much larger than it actually is. Mirrors are also great at reflecting light, making your apartment seem brighter and bigger. If you're apartment feels tight and cramped, use mirrors to your advantage.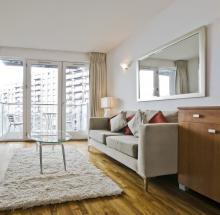 2. Area Rugs
One of the most common apartment types is a studio apartment, where the lines are blurred between the bedroom, living room, kitchen, and other spaces. Instead of spaces defined by walls and doors, studio apartments often place all of those necessities into a single room. This makes defining and separating spaces hard to do. 
Natural fiber rugs can really tie a room together and make it feel cozy. Not to mention, they can add a pop of color or pattern to an otherwise bland room.
Area rugs in studio apartments help create a physical and visual barrier between your functional spaces and help define an area. Plus, they're comfy to walk on and offer much-needed protection for your hardwood floors. The aforementioned Alex Kalita, for example, had a stipulation in her lease that she needed to cover more than 80% of her hardwood floors as they were original planks that had been there since the 1800s. A custom area rug then became a must-have for designing her rental apartment.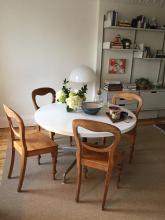 3. Wallpaper
With limited space to make sweeping design changes, your apartment's walls offer a perfect, blank canvas for you to design. And while paint is certainly a great option, wallpaper is easy to apply and has minimal risk of staining floors, wood trim, or other items you don't want hard-to-remove paint on. 
Wallpaper is perfect for creating eye-catching accent walls, or adding a subtle pattern to the whole room. And wallpaper isn't as painful to install like in previous years. Today, you can purchase "peel and stick" wallpaper that doesn't require you to slather your apartment's walls with a paste that is hard to remove. This is also good for renters as it means less damage to your apartment's walls, helping you reclaim your security deposit and stay within your lease guidelines.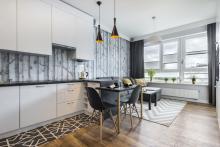 4. Light Fixtures
Tearing down walls, creating a built-in, or even adding a backsplash might be a little too complex interior design projects for an apartment. Especially if you only plan to rent the apartment temporarily or for a few years. But for a quick change that's inexpensive and creates a memorable space, light fixtures are a great go-to item. 
Upgrade the light fixtures in your apartments kitchen, living room, dining room or other common spaces to create an bold focal point that your guests will love. Light fixtures can also help emphasize your interior design style. For example, unique fixtures like lanterns or old filament light bulbs are great ways to showcase your industrial or rustic aesthetic.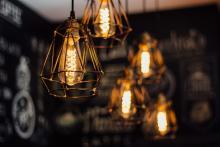 5. White, Bright Décor
In small spaces, it tends to get dark as there is less room to install windows. In addition, several apartments tend to share the floor of a building, meaning there are many windowless, interior walls in apartment units. Combined, this leads to dark apartments that don't get a lot of light. 
Make the most of the light in your apartment by using light, bright decorations, furniture, and wall colors. By focusing on bright tones and color palette, your apartment will reflect the natural and artificial light in the space, making it feel larger and brighter. However, be careful of white-washing your apartment. Instead of going all-in on one shade or color, introduce new colors through accent pillows, decorations, throw blankets, area rugs, and other pieces to add fun contrasts to the space.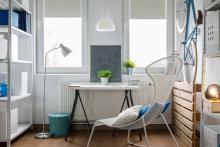 Enjoy the Little Things
While construction and major renovations are likely out of your budget and lease agreement, there are plenty of little things you can do that make a big difference in your apartment or studio apartment. Mirrors, bright decorations, new light fixtures, apartment area rugs, and wallpaper are just of few apartment interior design ideas that can leave a big impact. 
For more apartment interior design inspiration, learn how designer Alex Kalita renovated her Brooklyn apartment.

Sign Up and Save 10%
No, Thanks