Top 8 Interior Design Apps To Make Better and Speed Your Project
Top 8 Interior Design Apps To Make Better and Speed Your Project
What go-to apps will help you create your dream home? Check out our favorite interior design apps that help with paint selection, floorplans, and more.
With the rise of DIY design, more and more homeowners (and designers) are turning to their smart devices — because there's an app for that — to help them complete their renovations and projects.
But which apps are the most useful and help you create your dream home? 
Below, we list our favorite interior design apps for inspiration, furniture placement, color selection, and more. And the best part? We know home renovations can be pricey, so each app on this list is free!
1. Pinterest
Probably the most common and well-known on our list, is the Pinterest app — an online pinboard filled with ideas, crafts, tutorials, and design inspiration. Every idea on the Pinterest app is represented as a pin, which when clicked on consists of an image, a description, and often times a link back to the source of the image or where you can find the items featured in the pin. Users can save pins onto customizable boards to look back on for reference or to share ideas with others.
 If you're looking for remodeling ideas, a DIY tutorial, or are just want some ways to revamp your home, Pinterest is great place to start looking. All of Pinterest's visuals are sure to get your creative juices flowing and help organize all of your design ideas.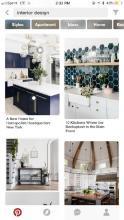 Download Pinterest on the App Store | Google Play
2. iHandy Level
Does your project involve mounting your new family photo above the fireplace? Or maybe hanging a mirror in your newly renovated bathroom? Whatever it may be, you want to make sure that it's straight and centered on your wall. But, before you go digging through the old tool box to find a level, try downloading the iHandy Level app first. 
As one of five iHandy tools in their carpenter toolkit, the iHandy Level is free and easily the most-used of the five. This app turns your smartphone into a surface level by leveraging your phone's built in sensors. 
The set up is simple. Before use, hold your phone against a flat surface and press the calibrate button to align your phone. Do this three times while your phone is vertical, horizontal, and face-up. After the calibration is set, hold your smartphone up to the object that you want to straighten, and read it as you would a normal level. Downloading this app helps guarantee you'll never have to worry about a crooked wall hanging ever again.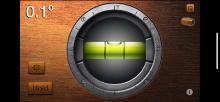 Download iHandy Level on the App Store | Google Play
3. Houzz
Houzz is as close as it gets to a one-stop shop for your interior design needs. On Houzz, you can browse photos of furniture, rooms, design styles, and more to find the inspiration you're looking for. Plus, you can also use the Houzz app to find professionals in your area that can help you with your design project. For example, Houzz can connect you with a contractor, interior designer, or even a brand or product. (If you ever need a natural fiber area rug for your project, we're on Houzz as well!)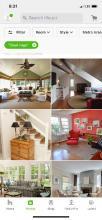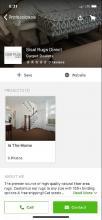 Download Houzz on the App Store | Google Play
4. Havenly
Making home design decisions can oftentimes be a difficult process. If you're struggling on what to do, try downloading the Havenly app. Havenly allows users to seek advice from real professionals within the interior design industry. Begin by taking Havenly's style survey to get matched with the perfect designer who can help you to create the space that you have always wanted. Then, work with the Havenly pros to put together a spectacular room by using your existing furniture pieces or by starting completely from scratch. 
This app allows users to upload photos of their actual room to give the designers an exact visual of what they are working with. So, if you have an interior design vision in mind, but need help piecing it together or you're indecisive about what would look best, be sure to download this app to your smartphone.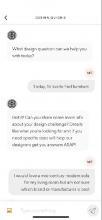 Download Havenly on the App Store
5. Color Capture
Have you ever seen a color, either in the sky or in a friend's home, and wished you could use it as a paint? Surprisingly, there's an app for that.
Color Capture by Benjamin Moore allows users to snap a picture of any color inspiration they see, and instantly generates paint matches from Benjamin Moore's over 3,300 paint colors. Not only does Color Capture provide you with a paint color match, but it also gives you palette suggestions of two other colors that correspond well with the given color. So, next time you find that perfect shade, be sure to pull out the Color Capture app on your phone and write down that paint name.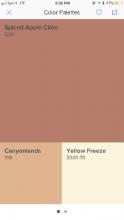 Download Color Capture on the App Store | Google Play
6. magicplan
Sometimes, renovation projects are more involved than a fresh coat of paint and some new furniture and instead involve an entirely new floorplan. And if you have next to zero experience creating a floorplan, it can be a daunting task. But, luckily, the magicplan app has your back. 
The magicplan app is an awesome digital tool to utilize while working on any home interior project as it uses your smartphone's camera to create professional floor plans and blueprints in just minutes. 
Simply stand in the room you want to create the floor plan of, and use the app to take a picture of one corner in the room. Continue rotating and tapping the corner button each time the camera is in line with a corner of the room until you are back at the corner you began with. The magicplan app will then create your room's floor plan where you can add in objects, doors, windows, electrical, and more. This app is great for furnishing your home, planning DIY projects, gaining price estimates, or mapping out your current floorplan.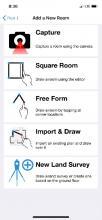 Download magicplan on the App Store | Google Play
7. Measured
While working on an interior renovation or DIY project, you'll probably need a tape measure or ruler along the way. However, it can be frustrating trying to use a tape measure when you're working alone and don't have an extra hand to hold the other end, and a ruler or yardstick isn't always be long enough. If this is the case, the Measured app provided by Lowe's is your solution. 
This app converts your smartphone into a digital tape measure. Using augmented reality technology, Measured can tell you the length of your kitchen countertop, how tall your night stands are, and how far away everything else is in between. 
Simply open the app, aim your phone towards the beginning of where you want to measure from, tap the screen, point your phone towards the ending measuring point, tap your screen again, and read the displayed distance for instant measurements.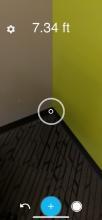 Download Measured on the App Store
8. Hutch
Lastly, the Hutch app is a must-have for interior design because it allows you to "try on furniture" before purchasing it. It's hard to know for sure what end tables would look good next to your sectional, or what rug would fit nicely in your new baby's nursery. The Hutch app fixes that as it allows you to place thousands of different furniture and decor pieces in a virtual room, giving you an actual idea of what the room will look like. 
Another favorite feature of the app is that when you first sign in, Hutch guides you through a design quiz to narrow down what would be perfect for your interior design project. For example, Hutch will ask you which room you're designing, what your budget is, and what your interior design style is so they can give you tailored product suggestions. Then, if you find something you like, you can purchase all the items directly from the app. It's like an online dressing room for home design.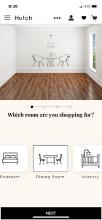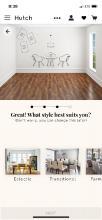 Download Hutch on the App Store | Google Play
More Favorites?
There are so many great design apps for interior design we couldn't possibly list them all. Do you have a favorite that wasn't mentioned? Let us know on Pinterest, Instagram, Facebook, or  Twitter.

Sign Up and Save 10%
No, Thanks