What is cottagecore interior design?
Do you love antique decorations and wooden furniture? Is your home full of plants, floral prints, and dried flowers? Does the thought of owning a farmhouse in the English countryside make you giddy?
If you've answered yes, then there's a good chance you're into the cottagecore design style. Since 2017, this aesthetic has been picking up steam, but what is cottagecore exactly?
Cottagecore decor is a design aesthetic that celebrates the styles of rural and farm lifestyles. It looks at country life through a nostalgic lens, highlighting rustic elements that point towards simpler times.
Think ruffly peasant dresses, an old watering can filled with wildflowers, and a wood-burning stove cooking freshly foraged mushrooms.
It's a vibe that's all about getting back to basics and slowing down. If this sounds as appealing to you as it does to us, here are five aspects of the cottagecore aesthetic you can integrate into your home.
Elements of Nature 
If you're going to channel country life, you have to embrace nature. Bring the elements from the outside in.
This can be as simple as potting some new plants to adorn your kitchen window sill in the spring or collecting a bowl of pinecones in the fall to use as a centerpiece. The key to the cottagecore style is to bring nature inside and integrate it into your everyday decorations.
Coziness
This is not a hard farm life we're trying to emulate. Cottagecore design is all about feeling comfortable, which is why coziness is of the utmost importance.  Homes decorated in this style have area rugs, blankets, and pillows that are soft to the touch and help you relax.
If you have a fireplace, throwing some logs on and enjoying the warmth and crackle of the fire is a cottagecore must. Anything that enhances those warm fuzzy feelings in and out qualifies here.
Keep your design style cozy with a cottagecore area rug, like this Merino Wool Sisal Rug in Natural.
Handmade 
Another major element of cottagecore design is country living and handmade decorations. Back in the day, people had to sew and widdle items into existence.
While you don't necessarily have to DIY anything, finding handmade pieces at a market or online will give your house that rural feel. Consider a hand-knit throw or a picture frame from your local carpenter to start.
Vintage & Reclaimed
Of course, if handmade items are part of cottagecore, then so are vintage and reclaimed goods. Cottagecore design is all about getting back to basics, living in a way that is more sustainable and connected to the past. Incorporating vintage furniture ensures both those elements are visible. 
You can also look to repurpose items from the past. An antique door can be reclaimed and made into a kitchen or dining room table, for example. Old window panes can be converted into wall decoration for your living room. Be imaginative as you explore these relics from the past in new ways.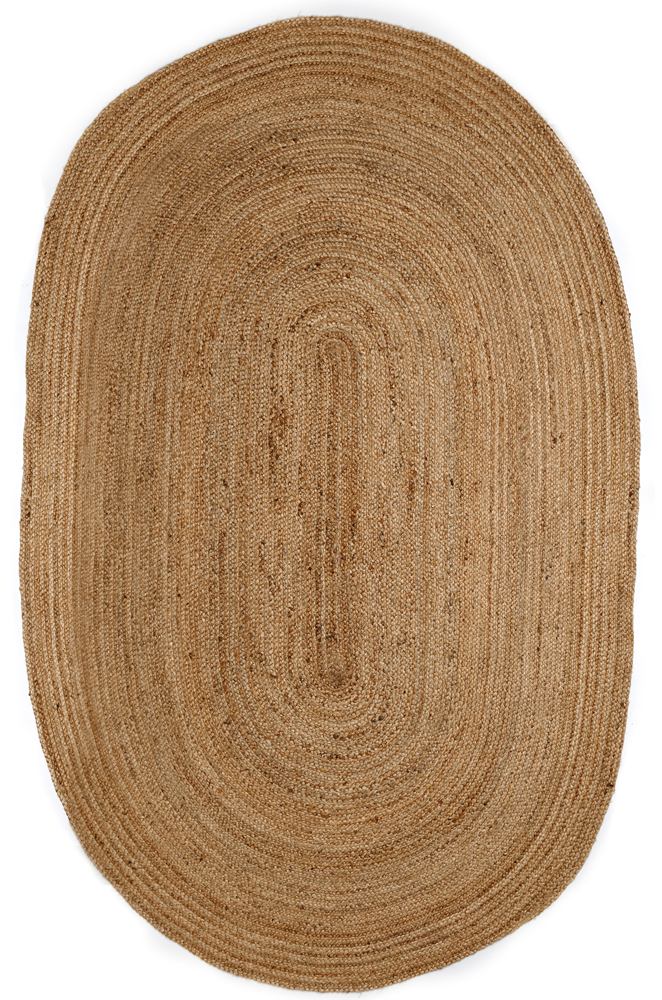 Use a cottagecore rug to incorporate rustic details, like this Oval Jute Rug in tan. 
Natural Materials
Synthetic materials were not available in the days of yore. People often depended on what they could find around them, which is why natural materials so easily fit into the cottagecore design trend.
Wood, stone, clay, straw, jute, hemp, and grass are all-natural materials that have been used in homes for centuries. They have rural charm while also lending a unique texture in tapestries, furniture, and rugs.  
Cottage Floor
Since cottagecore relies so heavily on natural elements, a natural fiber rug is an excellent piece to build a room around. Start exploring this countryside-inspired style with some help from our natural fiber rugs. Check out our full catalog to start building the cottagecore home of your dreams!  .

Sign Up and Save 10%
No, Thanks