Easiest Way To Measure A Stair Runner
At Sisal Rugs Direct we make custom stair runners every day.  Our customers are always asking 'What is the easiest way to measure a stair runner?'  Below you will find a quick guide that will help you accurately measure the perfect stair runner.
Supplies Needed:
        -Long piece of string or ball of yarn
        -Tape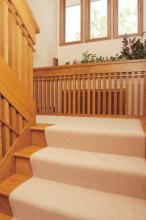 Let's start with the easy part, measuring the width.  If you want to cover your whole stair case simply measure how wide it is.  The binding does not add any width to the runner.  It is common for the stair runner to be shorter on each side to expose part of the wood underneath.  We see anywhere from 3-12" exposed on either side depending on the overall width of the staircase and personal preference. 
Now let's measure the length.  Start by attaching the piece of string under the top lip of the stairs where the rug will end.  Use a piece of tape to secure string to the stair.
Now run the string down the back of the step (riser) and attach it to the base of the step using tape. 
Run the string over the step, wrap it over the lip and tape it under the lip (if you want the rug to wrap around and underneath the lip) then attach the string again at the bottom of the riser.  Otherwise if you wanted a waterfall look (like pictured above) run the string over the step and attach it at the bottom of the riser. Continue attaching the string down the stairs just as you would like the rug to look.
When you reach the base of the steps you will want to mark this spot of the string using a piece of tape.  Do not attach the string to the bottom of the step, only mark your spot.  Now you will take all of the string that you have attached to the stairs and measure it.  You can tear it off to easily measure. 
Measure the piece of string from the starting end all the way to where the bottom was marked.  We always suggest adding at least 6" on to your final length because the last thing you would want is to receive the runner and it be too short! 
The runner can always be cut down in length when installed.   It is common that we leave the ends of the runner unbound so that it can be easily cut down to size.  Just leave us a note in the comments section of the order and we can accommodate this. 
Otherwise we have a blog with a more math based approach to figuring out the length that can be found HERE, but we think the string is much easier.  As always we are here to help and would be happy to answer any measuring questions you may have.     

Sign Up and Save 10%
No, Thanks